I have returned to my roots and discovered an ideal way of remembering the things that most influenced my life. Visiting a minor-league baseball game recently at Joe Riley Park (Charleston, S.C.) brought an outpouring of recollections of good times with my family.
My dad, an overworked car mechanic, always had "just enough" money for hot dogs, soda, peanuts and popcorn. Mom, a part-time nurse, always cautioned against eating too much at such events. Dad was clearly the more popular with my brother and me.
Nothing was finer on a summer evening at McCook, Neb., than the sights and smells of freshly cut grass and bright lights at the ballpark. It was a time to be with friends from school; it was a time to laugh and exchange endless stories; and it was a time to dream about what lay ahead.
Most important, it was a time to bond with family and build a lifetime of friendships.
Minor-league baseball (officially known as the National Association of Professional Baseball Leagues) serves the same unique role in America today, but it is anything but minor with more than 42 million men, women, and children likely to buy tickets to games for 176 teams in 15 leagues this year. The sport has become an enormous favorite in and economic influence on smaller communities.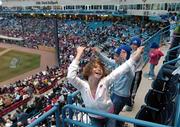 It has mastered the art of promotion, offering numerous activities and specialty gifts intended primarily for youngsters. Some teams have as many promotions as games, and women have been courted for years.
In a recent conversation with commissioner Bud Selig, we agreed that minor league baseball grows "enormous interest" in the game, more than ever before.
"Its clubs are essential to our future and that has been the case for many years," Selig declared. "They are our lifeblood."
His 30 Major League Baseball teams will draw some 77 million fans this season, which underscores the significance of minor league attendance. The president of the United States, George W. Bush, has applauded minor league baseball and its impact on American life on a number of occasions.
As the past president of the American League, I see compelling reasons why the game is so popular at the minor league level. Baseball is a game of beauty, whether it is played in the Bronx or Charleston. It is a timeless treasure with a storied history, something that other sports are yet to rival.
Baseball, as a professional sport, surpasses the combined attendance total of pro football, basketball and hockey. More than 140 new minor league ballparks have been constructed since 1990, and all of them offer intimate surroundings for families.
Therein resides a telling part of the story. Baseball, at the minor league level, remains both affordable and entertaining, with an endless number of special promotions for youngsters. It also introduces to these communities an impressive array of gifted Hispanic and African-American athletes who represent about 40 percent of the players.
"We're all about fun," explained Mike Veeck, the creative president of the Charleston RiverDogs (a Class A affiliate of the New York Yankees in the South Atlantic League) and son of legendary MLB owner Bill Veeck. Many of his ideas have been put in place by other minor league clubs, contributing to record attendance.
Minor league baseball has produced virtually all of the game's premier players over the years, people like Jackie Robinson, Ted Williams, Joe DiMaggio, Willie Mays and Mickey Mantle. Very few players have gone directly to the big leagues.
"Minor league baseball is the testing ground for the most promising young players," Selig also said. "It provides early exposure to gifted athletes, many of them on their way up the professional ladder."
The late Larry Doby, the AL's first African-American player and a member of MLB's Hall of Fame, often liked to say that his experience in minor league baseball prepared him for "most everything that would follow, both on and off the field."
As my assistant in the AL office, he especially welcomed chances to see minor league games because of the "youthful enthusiasm" of the players and the fans.
One should not underestimate the impact of minor league baseball on American society. It should be seen as a game with a rich tradition and a place for all of us to remember and grow, and especially for those who will follow us.
- Gene A. Budig was president of the American League from 1994-2000 and once president/chancellor of Illinois State University, West Virginia University and the University of Kansas. He is a member of The National Commission on Writing in America's Schools and Colleges and lives on the Isle of Palms, S.C.
Copyright 2018 The Lawrence Journal-World. All rights reserved. This material may not be published, broadcast, rewritten or redistributed. We strive to uphold our values for every story published.