OK, so Jared Schweitzer doesn't have a shopping spree of sports cars, mansions and bling-bling ahead of him just yet.
The St. Louis Cardinals weren't hearing that.
"We discussed a major-league contract, but they shot me down pretty quick and told me to get my butt down to Florida," Schweitzer quipped. "So that's what I'm going to be doing."
Schweitzer was picked up by the Cardinals in the 30th round of the amateur baseball draft Wednesday, just before Kansas University teammate Kodiak Quick was picked up by the Detroit Tigers in the 33rd round.
And while Schweitzer won't have a signing bonus that will widen eyeballs, he does have about all he was asking for after his senior season at KU.
A chance.
"Just to get an opportunity is pretty exciting," said Schweitzer, who hit .369 with 11 home runs for KU this season. "I wasn't hoping for a whole lot of money. Just an opportunity to go down there and showcase my skills and hopefully go from there."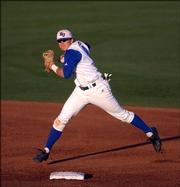 Schweitzer will go to a mini-camp this weekend in Florida, where club officials then will determine where to place him in the organization. There's a chance he could run into former teammate A.J. Van Slyke in the minors - Van Slyke was picked in the 23rd round by the Cardinals last season. He's currently playing for the Swing of the Quad Cities, a single-A affiliate in Davenport, Iowa.
While Schweitzer is all-in on his professional quest, Quick isn't so gung-ho. Quick said he was going to weigh his options this week before deciding what to do.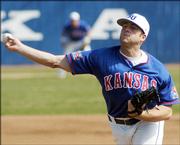 "I'm not quite sure," Quick said. "I'll probably give it shot, but I don't know right now."
Quick spoke Wednesday with the scout who drafted him, but said he didn't commit. He said he'd have until the weekend to decide what he wanted to do.
KU had six players taken in the two-day draft, the most KU has had since the draft narrowed to 50 rounds. Don Czyz, Sean Land, Gus Milner and Ritchie Price went during the first day.
Copyright 2018 The Lawrence Journal-World. All rights reserved. This material may not be published, broadcast, rewritten or redistributed. We strive to uphold our values for every story published.