CORVALLIS, ORE. — The grit and resiliency displayed by Kansas University's baseball team during its run to the Big 12 tournament championship was evident again Friday in the first round of the NCAA regionals.
Kansas used four home runs to erase an early five-run deficit in a 9-6 victory over Hawaii in the opening game of the Corvallis Regional at Goss Stadium.
It was the eighth consecutive victory for the second-seeded Jayhawks (43-23), who face top-seeded Oregon State (40-14) at 8 p.m. today in the all-important undefeated game.
Senior first baseman Jared Schweitzer hit for the cycle and drove in two runs, and Erik Morrison, Ryne Price and Buck Afenir also homered. Morrison's was a three-run shot with two outs in the bottom of the third that jump-started the KU offense, which finished with seven extra-base hits and 16 overall.
"When you're down 5-0 in the third, you kind of get hit in the mouth early," said KU coach Ritch Price, a native of nearby Sweet Home, Ore., who was triumphant in his return to his home state. "I thought we responded well. At the end of the third inning I told the guys, 'It's going to take nine (innings) to win with the way the ballpark was playing with the wind blowing out.'
"When (Morrison) hit that homer to cut it to 5-3 I thought we had a chance to get back in the game."
Added Morrison of his team-leading 14th homer: "Any big hit with two outs is definitely big for the team. It kind of got us rolling a little bit. This team is starting to click on all cylinders."
Starter Kodiak Quick and reliever Brendan McNamara then held the Rainbows (43-16) hitless over the next four innings, and the Jayhawks teed off on emergency Hawaii starter Justin Costi and two relievers for nine unanswered runs and their first NCAA win since a 20-7 rout of Ohio State back on May 27, 1994.
"The whole key was after we got down 5-0, Kodiak went back out and put zeroes up in the fourth and fifth, after we scored, and McNamara put zeroes up in the sixth and seventh," Ritch Price said. "If you're going to come from behind, the pitchers have to put zeroes up to give your offense the opportunity to get back in the thing.
"I thought our pitchers did a fabulous job after the initial start."
KU closed to within 5-4 on a Gus Milner sacrifice fly in the fourth.
Afenir's homer leading off the sixth tied the game 5-5. Three batters later Schweitzer drilled reliever Tyler Davis' first pitch for a two-run shot and a 7-5 advantage.
KU added two insurance runs in the seventh on Ritchie Price's homer and an RBI double by Matt Baty.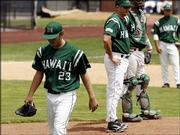 "When you leave balls up to Kansas, they put them out of the park," Costi said.
Schweizer hit his first career triple in the first, a single in the third, a double off the left-field wall in the fourth and towering two-run homer to left field in the sixth. He was the first Jayhawk to hit for the cycle since Jeff Niemeier did so in an 18-3 win over Benedictine on May 3, 1993.
"I don't think I'd ever done that," said Schweitzer, whose 4-for-5 afternoon raised his average 10 points to a team-leading .368. "I don't think I've hit a triple, so to get that out of the way in the first at-bat was nice.
"It was a big game and it felt great. I honestly didn't think about it. After the home run it might have crossed my mind, but once I get in the batter's box I wasn't thinking about it."
Hawaii scored once in the eighth to trim the lead to 9-6, and had the tying run at the plate in cleanup hitter Luis Avila when senior closer Don Czyz, who earlier Friday was named a first-team Louisville Slugger All-American, relieved Paul Smyth.
Czyz retired Avila on a grounder to shortstop on his first pitch, and then set the Rainbows down in the ninth for his NCAA-best 19th save.
Coach Price said the regular season was excellent preparation for a comeback win in KU's first NCAA appearance in 12 years.
More NCAA Baseball Tournament coverage
"When you have seniors who have played in the Big 12, and you have seven teams in your league ranked in the top 25, every weekend we face someone who is a national power and we're pretty much used to that," he said.
"We have some swagger in our dugout. Our guys know they're good and they like to play. They like each other, and they battle every day."
Hawaii was without junior right-hander Steven Wright (11-2, 2.30 ERA), Friday's anticipated starter. He's been bedridden with the flu since arriving in Oregon on Wednesday.
"I'm sorry Steven Wright didn't pitch," Ritch Price said. "We didn't even know that until the lineups were posted, and we found out he has an illness.
"All I've heard is great things about him and it's really devastating for Hawaii to get this far and not be able to run their No. 1 guy out there."
Go figure
4 Home runs stroked by KU in Friday's victory
8 Consecutive victories for the Jayhawks
19 Season saves by KU's Don Czyz, the NCAA leader
1994 The last time KU won an NCAA Tournament game
However, Hawaii coach Mike Trapasso said six runs should be enough to win a first-round regional game.
"No ifs, ands or buts, they beat us," he said. "We just didn't make enough pitches to hold Kansas down, and the four zeroes in the middle helped Kansas settle the game down."
Ritch Price said junior left-hander Sean Land (5-6, 4.93) would pitch tonight, opposed by OSU junior right-hander Jonah Nickerson (9-4, 2.61). It's the same rotation he used in the Big 12 tournament and in the final regular-season series against Texas A&M.;
"We're a big believer in routine," Ritch Price said. "We don't look at matchups and switch pitchers, those kinds of things. We play one day at a time.
"I don't even know what time gametime is (today). I had to ask (a team official) after the game what (today's) schedule is. If I'm looking ahead, these guys are looking ahead, and we're not good enough to do that."
Copyright 2018 The Lawrence Journal-World. All rights reserved. This material may not be published, broadcast, rewritten or redistributed. We strive to uphold our values for every story published.