Arlington, Tex. — Michael Young had another big game as the designated hitter, and the Texas Rangers stayed out of last place in the AL West with a much-needed offensive outburst.
Young had four hits with a home run, and Mark DeRosa - playing shortstop instead of Young - added four hits with four RBIs in the Rangers' 15-2 victory over the Kansas City Royals on Sunday night to snap a season-worst six-game losing streak.
"It's totally coincidental as far as I'm concerned," Young said after going 4-for-6 with two RBIs. "I'd like to think I'd do it if I was playing shortstop today, too."
DeRosa had a two-run double and a two-run single in his third start this season at shortstop, all games when Young, a three-time All-Star, was the DH.
"DHing is fine and dandy every once in a while, but it's not something I want to make a habit of doing," said Young, a starter in every Rangers game this year. "But every once in a while, it's nice to get off your feet and get some rest."
Young is 12-for-16 in those starts at DH - and 22-for-42 in his career as a DH.
"Mike put on a show again. Nothing he does surprises anybody anymore," Texas manager Buck Showalter said.
The Rangers (52-53) had 19 hits and matched a season high for runs to avoid their first winless homestand of at least six games in club history.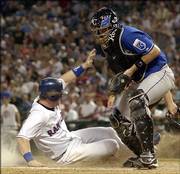 After losing last Sunday in Chicago against the White Sox, Texas was swept in a three-game set by the New York Yankees and lost the first two against the Royals (37-67), who have the worst record in the major leagues.
"It seems like everybody in here has been trying to put it on themselves, so it was nice to get a lead early, then relax and have some fun," said DeRosa, 4-for-34 his previous nine games to drop his average from .322 to .308. "We definitely needed that."
Texas is third in the AL West, but only three games behind division-leading Oakland - and a half-game ahead of Seattle, which also won Sunday.
Carlos Lee had two more hits and his first RBI in his first victory with the Rangers since coming over from Milwaukee in a six-player trade Friday. The left fielder is 7-for-13 in three games for Texas.
Gerald Laird and Ian Kinsler had three hits each.
John Koronka (7-6) allowed two runs while throwing 110 pitches over five innings. He struck out five and walked one.
Mark Redman (7-6), the subject of trade speculation before Monday's non-waiver deadline, gave up six runs and nine hits and lasted only three innings. The Royals' left-hander was 7-1 in his previous 10 starts.
"I've got to take it as a bad day at work. It was one of those nights they caught fire," Redman said. "I'm not going to dwell on it. It was not any one particular pitch. They hit them all."
DeRosa's two-run double in the second put the Rangers up 2-0. Young led off the third with his ninth homer and Laird had an RBI double before Kinsler's two-run homer that barely cleared the 14-foot wall in left for a 6-0 lead.
"There were a couple of pitches where I went down to block them in the dirt, and they still hit them," catcher John Buck said.
Brandon Duckworth replaced Redman to start the fourth, and needed 45 pitches over 11 batters to finally get out of the inning after the Rangers had scored six more times.
Young had a one-out single and scored on Lee's double. Kinsler drew a bases-loaded walk and DeRosa had a two-run single after intentional walks to Mark Teixeira and Hank Blalock that sandwiched a groundout. Gary Matthews Jr. had an RBI single that made it 12-2.
After Blalock's sacrifice fly in the fifth, Duckworth left with elbow soreness. Royals manager Buddy Bell said Duckworth was probably headed to the disabled list.
Emil Brown led off the Kansas City fourth with his seventh homer - a shot to center field that Matthews unsuccessfully made a leaping stab at while blowing a bubble with his gum.
Adam Eaton was scheduled to make his second start Sunday for the Rangers, but the right-hander was pushed back to Tuesday at Minnesota because of a stomach virus. Eaton said he felt better after getting medication, then sleeping most of Saturday and until around noon on Sunday.
Notes: The Rangers made two trades Sunday, sending RHP Bryan Corey to Boston for minor league pitcher Luis Mendoza and getting C Miguel Ojeda from Colorado for cash. ... Kansas City, which has won only six of its last 19 games, begins a season-long 10-game homestand Monday. ... Texas now plays 10 straight road games. ... LHP John Rheinecker pitches Monday, when Koronka was originally scheduled.
Copyright 2018 The Associated Press. All rights reserved. This material may not be published, broadcast, rewritten or redistributed. We strive to uphold our values for every story published.