Mexico City — A month after losing Mexico's closest presidential race in history, leftist leader Andres Manuel Lopez Obrador rallied with hundreds of thousands of supporters Sunday and said he would live among 47 makeshift campsites to pressure for a vote recount.
It was Lopez Obrador's third mass protest following the July 2 election in which he lost by 244,000 votes with more than 41 million cast.
Mexico's Federal Electoral Tribunal is considering his charges of vote fraud and must decide on a president-elect by Sept. 6.
Lopez Obrador vowed to keep up the pressure on the seven-judge tribunal, which can accept the official results, order a partial recount, order a total recount or annul the election.
"I propose that we stay here, that we remain here day and night until all the votes are counted and we have a president," he said before a crush of supporters in the capital's sprawling Zocalo square.
The winning candidate, Felipe Calderon of the ruling National Action Party, said Sunday that elections are won at the ballot box and not on the streets.
Organizers of the Sunday rally said they had met their goal of 2.5 million protesters, but some capital police put the number at half that. Many demonstrators flooded subway stations on their way out of downtown even before Lopez Obrador spoke.
In addition to banners and signs touting their candidate, supporters held others criticizing President Vicente Fox, electoral officials and even media analysts sympathetic to the call for a vote recount.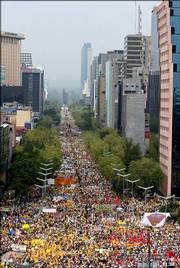 "I want to reiterate that I am not ambitious nor vulgar, and money doesn't interest me," Lopez Obrador said. "Power only makes sense when you put yourself at the service of others."
In response to those comments, some business owners here shook their heads in disagreement.
"Of course this is all about him living in Los Pinos," said baker Israel Melendez Lopez, referring to the woody presidential residence.
Others echoed similar sentiments. Ana Reyna and her son, Manuel Alejandro, were selling pro-Lopez Obrador T-shirts and flags. "People are tired of this. They're not buying anything anymore. They just want to get on with their lives, including us."
PRD representatives were taking up collections to keep the protest alive, but some who have been helping said they are reaching their limit.
Cab driver Juan Carlos Granados, 31, said he has been bringing supporters in from the nearby state of Hidalgo. "Some seem like they genuinely want to be here; others clearly are forced to attend," he said.
Granados himself donated his time and money because he said that otherwise, he could lose his taxi license from the PRD city government. "I have no choice, but I'm not sure I can do this for too long," he said.
Copyright 2018 The Lawrence Journal-World. All rights reserved. This material may not be published, broadcast, rewritten or redistributed. We strive to uphold our values for every story published.