Cooperstown, N.Y. — Thirty-three years after his career appeared to be over before it barely had begun, Bruce Sutter will receive the ultimate tribute - induction into the Baseball Hall of Fame.
When he's enshrined today, Sutter will become the first honoree whose name never appeared on a starting lineup card. And, as implausible as it might seem, the former ace reliever can thank an injury to his pitching arm for his good fortune.
Signed as a free agent by the Chicago Cubs and desperate to make it to the major leagues, prior to the start of the 1973 minor-league season Sutter scheduled - and paid for with his bonus money - surgery on his right arm for a pinched nerve incurred while trying to learn how to throw a slider.
"I didn't think they would pay for the operation," said Sutter, who hurt his arm after only two minor-league games. "I thought if I told them I was hurt, I was gone."
He was unable to keep the operation a secret for long. Fred Martin, the Cubs' roving minor-league pitching instructor, spotted the big scar on Sutter's elbow, then forever changed his life by teaching him to throw the split-fingered fastball.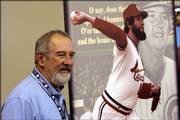 In 1976, he registered six wins and 10 saves and a 2.70 earned-run average in 52 appearances, and his career took off. The next season he assumed the role of closer for the Cubs and finished with 31 saves and a 1.34 ERA, and in 1978 registered 27 saves.
Sutter will share the dais with J.G. Taylor Spink Award winner Tracy Ringolsby, current national columnist for the Rocky Mountain News, and Ford C. Frick Award winner Gene Elston, former broadcast voice of Houston baseball.
It promises to be an emotional day. A 17-person class of players and executives from baseball's segregated past also will be inducted, and Sutter's wife, Jayme, is facing surgery in two weeks to remove a cancerous kidney.
Copyright 2018 The Associated Press. All rights reserved. This material may not be published, broadcast, rewritten or redistributed. We strive to uphold our values for every story published.