Danny Manning some day will be named a full-time college assistant basketball coach - likely at his alma mater - and won't be able to run his annual camp for Lawrence and area youths.
That's still down the road a bit. For now, the former Kansas University and NBA standout is content to serve as Bill Self's director of student-athlete development/team manager for a fourth season.
"Eventually I'd like to get there (and be recruiting like Self and aides Joe Dooley, Tim Jankovich and Kurtis Townsend)," Manning said Monday during a break between two-a-day sessions at his 17th annual camp, this year at Free State High.
"Now is not my time. I'm learning every day. I have a great staff to learn from," Manning said. "Those guys share a lot and give a lot of information. Hopefully, when that day does come, I'll be ready."
Self checked with Manning to gauge his interest in becoming a full-time coach two years ago when Norm Roberts left for St. John's, and has said he'd love for him to eventually come aboard as a full-time aide.
"I'd like to one day," Manning said. "You don't do all the things I've done the last four years and not want to be a coach. I like it. It's fun. I enjoy it. I've been around coaches all my life. My dad was a coach.
"I understand it, have a feel for some of the things that need to be done. I don't mind doing those things."
The 40-year-old Manning, who still looks as if he could play NBA basketball if not for some well-worn knees, exhibits a love for coaching yearly at his camp. On Monday he preached unselfishness - passing instead of dribbling the ball - to nearly 200 campers who are on board from Monday through Friday.
"It gives a lot of the former athletes and coaches in this area an opportunity to work with the younger generation, which we all enjoy," Manning said. "It's a meeting ground for guys to come back in the summer to spend time with friends.
"We have a good turnout. Hopefully, the kids will learn a little bit, have some fun and go away with a good camp experience."
Manning addressed a variety of topics with the Journal-World on Monday.
¢ On his former college coach, Larry Brown, being fired by the New York Knicks after just one season:
"Coach Brown will continue to have a great career, whether he coaches again or is in someone's front office directing or running a team. Everyone who has been involved with coach in the game of basketball has benefited from a personal aspect. There's no need to have a pity party for coach Brown. He's done very well through basketball and that will continue."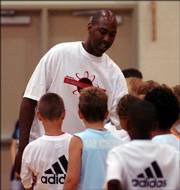 ¢ On KU's chances this upcoming season:
"Every year we go into the season hoping to have a special team, a special group because we feel we have special individuals. It's just a matter of making that season a magical season.
"Last year the regular season was OK. The conference season went well - enough for us to get a piece of the title. The postseason tournament was great in terms of the Big 12. The NCAAs we ran into a team (Bradley) that made plays and we weren't able to make any that particular night.
"We look forward to getting off to a good start in the preseason and have it snowball from there. We definitely have a lot of pieces where if everything falls in place we could have a very good team."
¢ On the possibility of prep standouts such as O.J. Mayo heading to Europe instead of college for a year to make money while waiting to become eligible for the NBA Draft:
"That's definitely an option that will be exhausted pretty quickly by quite a few players, right, wrong or indifferent. I think if they don't go to a school, going overseas is a learning experience in itself - learning a different culture, language, way of life. Although they won't be getting a traditional education, they will receive some life skills that will help them down the road."
¢ On what he does to stay in shape:
"Not much. Some days my body allows me to go out and do a few things - those days it does give me an option. Every now and then I may go out and play (basketball) with some friends, my kids. As far as serious pickup basketball, no.
"I go out there and play softball every now and then, try to get out once a week in some Lawrence league in the spring. In the summer I just coach my son's team, follow my daughter's team and enjoy life."
¢ This, that at camp: Baker University head athletic trainer Lynn Bott, who worked at KU many years in the same capacity, is working his first Manning camp as a trainer.
"I think this camp is fantastic for Danny, the community and these kids," Bott said. "He has some great staffers. He's a great person to run a camp."
Former Lawrence High basketball standout Mike Harding has worked a handful of camps. Former KU football player Tony Berry has worked them all.
"I have a blast watching the kids, seeing them grow," Harding said.
Copyright 2018 The Lawrence Journal-World. All rights reserved. This material may not be published, broadcast, rewritten or redistributed. We strive to uphold our values for every story published.