Floyd Landis sped down a sun-baked Boulevard Champs-Elysees to victory Sunday in the Tour de France, extending to eight years the U.S. domination of the venerable race after seven consecutive triumphs by Lance Armstrong.
Landis, a whip-thin 30-year-old with protruding ears beneath his cap, beamed and waved from the winner's podium. He was joined by Oscar Pereiro of Spain, the second-place finisher, and German Andreas Kloden, who came in third.
Earlier Sunday, during the final 96-mile ride from Sceaux-Antony to the Arche de Triomphe in the heart of the capital, Landis permitted himself a sip of champagne passed to him from the car operated by his Phonak team.
The final stage was a formality because Landis had all but locked up the Tour victory during the last race, a time trial Saturday. He capped a comeback that featured a remarkable surge from 11th to third place in a hill climb Thursday.
"I heard a lot about my comeback being exceptional, but I'll let others judge," Landis said Sunday evening. "I dreamed a lot about winning this race, and I was lucky enough to participate several times with Lance, which gave me valuable experience. Above all, I learned to fight for my goal in the Tour. Never give up."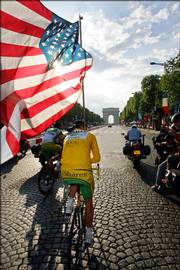 Norweigian Thor Hushovd led the final sprint across the finish line in Paris.
Landis became the third American to win the 93-year-old race, joining Armstrong, with whom he supported as a teammate for two Tour victories, and Greg Lemond. Landis' achievement was all the more impressive because he overcame an arthritic hip that will soon require surgery.
This year opened a new era with the absence of Armstrong. The indomitable Texan developed a kind of aura during his seven years at the top. His talents and his inspiring victory against cancer made him, and the Tour, known to an audience beyond cycling fans.
In France, his scrappiness and star power provoked a mix of admiration and resentment. He had to deal with grumbling in official sports circles, sniping in the media and recurring allegations of doping that were never proved to be true. Nonetheless, Armstrong said in a recent U.S. television appearance that the French people generally treated him well.
Despite their hopes for a strong showing by a countryman this year, the French once again found themselves Sunday listening to "The Star Spangled Banner" on the Champs Elysees. It was another blow for French sports after the national soccer team self-destructed during the final of the World Cup earlier this month and lost to Italy.
"I would like it better if a Frenchman had won," said Nadine Doyen, 53, who watched from the archways of the covered sidewalk on the Rue de Rivoli, a refuge on another steamy July day. "But let the best win. Champions have been loved in France who were not French. Deserving victory is what matters."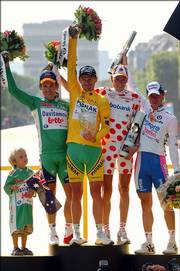 Doyen admitted that her 18-year-old son idolizes Armstrong. Overall, though, the French media and public seemed content that a different American had won. They seemed intrigued by Landis' roots in a Mennonite community in Pennsylvania, and tended to portray him - accurately or not - as a humble, self-effacing antithesis of a supposedly brash Armstrong.
"Floyd seems less full of pride and more outgoing than Lance," said Tony Largeau, another French spectator.
Landis' struggles with his hip acquired him an affectionate rhyming nickname from French journalists: "L'Americain a la hanche qui flanche." (The American with the failing hip.)
The post-race analysis Sunday centered on Landis chances' for establishing a dynasty a la Armstrong in the coming years. Eddy Merckx, a former Tour champion from Belgium, predicted that Landis would come roaring back next year after his operation to have his hip replaced.
"He'll win other Tours," Merckx told Agence France Presse. "He'll be even stronger next year."
Although Jean-Marie Leblanc, the Tour's director, said Landis had displayed greatness during his prodigious solo ride Thursday in the Alps, he warned that Landis' age, 30, along with the hip troubles, could be obstacles.
"It's not certain he'll win three Tours de France," Leblanc said.
Armstrong, who was in Paris for the finale, praised his former teammate's determination.
"I'm proud and happy for Floyd," Armstrong told reporters. "He proved he was the strongest, everybody wrote him off."
The first Tour of the post-Armstrong era did not begin smoothly. Just before the race began July 1, nine riders were kicked out after being implicated in a doping investigation by authorities in Spain. The scandal claimed 1997 champion Jan Ullrich of Germany and Spain's Ivan Basso, who were considered favorites along with Landis.
But the ending provided drama and inspiration. An American family visiting France from New Jersey cheered Sunday on the Rue de Rivoli. Ray Gill, wrapped in an American flag, and his wife Susan and daughter Emma, said they had supported Landis since the first day, convinced that his time had come.
"He was Lance Armstrong's wing man for so many years," Gill said. "Now this is his chance."
Copyright 2018 The Lawrence Journal-World. All rights reserved. This material may not be published, broadcast, rewritten or redistributed. We strive to uphold our values for every story published.