The backdrop of the Kansas River was a bonus for Dulcie Guinty, of Wichita, as she sat in Burcham Park Saturday afternoon and listened to the Lawrence band Avenue.
"This is a wonderful place for a concert," said Guinty, the president of the Kansas Acoustic Arts Assn. "It's isolated and not disturbing the neighbors, but there's shade, trees and great entertainment."
Guinty said she was visiting friends in Lecompton for the weekend. She came to support Kansas musicians and also help contribute to a good cause.
Organizer Chris Armstrong said one-third of the ticket sales to Saturday's "Burcham Park: Music for the Masses," where about eight bands performed, would be donated to Kirk Rundstrom, 37, a Lawrence musician battling cancer.
Armstrong, a recent Free State High graduate and first-year Kansas University student, and his friends came up with the idea two years ago. It offers a laid-back atmosphere at the park for families and anyone else, he said.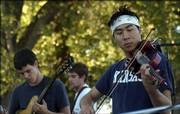 He said it gives Lawrence-area bands another unique venue to perform.
"There's a lot of great local bands that I get to hear play," said Trent Allen, of Lawrence, and an incoming KU freshman. "To see them all in one day - it's nice."
About 100 people had bought tickets by Saturday afternoon, Armstrong said. He expected more people to make their way there during the evening when The Yards and other bands took the stage.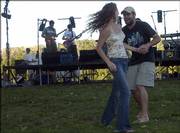 Armstrong said the park offers an opportunity for an audience of varying ages to be exposed to different types of music.
"It's more of an atmosphere of people showing up and checking out other people's stuff," he said.
Guinty says Kansas musicians could use the support and exposure.
"There's a wealth of talent, much more than the public gets notice of because they don't get major radio play," Guinty said.
Other than the portion of ticket proceeds for Rundstrom - known as the frontman for Split Lip Rayfield - friends also were accepting donations and selling bottled water to help cover his medical costs.
Copyright 2018 The Lawrence Journal-World. All rights reserved. This material may not be published, broadcast, rewritten or redistributed. We strive to uphold our values for every story published.