Wilton Koehler will cut his driving time in half and save some money on his gasoline bill, now that he can visit a medical clinic for military veterans in Lawrence.
"I live in southern Douglas County, and driving 15 miles is better than 38," the Korean War veteran said Wednesday about not having to travel all the way to the U.S. Department of Veterans Affairs' Colmery-O'Neil Medical Center in Topeka.
Koehler was an early visitor to the new VA clinic at 2200 Harvard Road, about a block west of Iowa Street.
It is Koehler and other veterans in their 70s and 80s that the clinic may help most because it saves them longer drives to clinics elsewhere, said Terry Harbert, associate chief of community care with Eastern Kansas Health Care System, which oversees the clinic and VA hospitals in Topeka and Leavenworth.
"There is a very large veteran population in the Lawrence area," Harbert said. "We want to be open five days a week as soon as we can."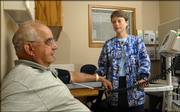 There are at least 9,000 veterans in Douglas County alone, he said. The clinic also will serve veterans who are students at Kansas University and Haskell Indian Nations University.
For now, the clinic is operating on a sporadic schedule, and veterans wanting routine medical care should call first to make sure it is open at (800) 574-8387, ext. 4650.
Veterans at the clinic will be seen primarily by a physician's assistant and a licensed practical nurse. On some days, a lab technician will be there, as will a social worker providing mental health care.
"Our long-range goal is to have a physician here," Harbert said.
The clinic has several examining rooms and a blood laboratory. Computers in the rooms allow an individual's VA medical records to be called up and for information to be logged into it.
For the past few years the VA operated a temporary medical clinic at the Reed Medical Group building, 404 Maine. It was open two days a month but was closed several weeks ago.
Copyright 2018 The Lawrence Journal-World. All rights reserved. This material may not be published, broadcast, rewritten or redistributed. We strive to uphold our values for every story published.