Jerusalem — Widening a military offensive triggered by the abduction of two of its soldiers, Israel warplanes struck early today in the southern suburbs of Beirut, where the militant group Hezbollah has its political headquarters, as militants in Lebanon fired more than 150 rockets at communities across northern Israel.
Israel imposed a naval blockade on Lebanon on Thursday, struck fuel tanks at the Beirut airport and hit two Lebanese air bases near Syria.
The heavy rocket fire from Lebanon hit the towns of Safed and Nahariya, and one rocket reached Haifa, the deepest such strike yet.
Israel kept up the barrage early today with airstrikes in south Beirut where Hezbollah is headquartered, Lebanese police and witnesses said. Police said three people were killed and dozens wounded, Lebanese police said.
Calm to violence
The intensifying violence, after years of relative calm since Israel's withdrawal in May 2000 from southern Lebanon, raised fears of a possible wider conflict in the region. Israel has accused Syria of providing support for Hezbollah, which is also backed by Iran.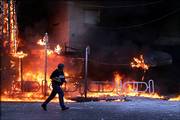 Iranian President Mahmoud Ahmadinejad said any Israeli attack against Syria would be an aggression on the whole Islamic world and warned of a harsh reaction, the official Iranian news agency reported today.
The agency said Ahmadinejad made the comments in a telephone call to Syrian President Bashar Assad.
The death toll in two days of fighting rose to 57 people with the sudden burst of violence sending shock waves through a region already traumatized by Iraq and the ongoing battles in the Gaza Strip between Israel and Hamas. The Hezbollah rocket strikes on Israel killed two people and injured more than 100, most of them lightly, said the northern district police chief, Dan Ronen.
Israel crippled movement in Lebanon, bombing nearly all bridges linking the south to the rest of the country and striking the Beirut-Damascus highway, cutting Lebanon's main land link to the outside world. Gunboats blocked Lebanese ports, and Beirut's international airport was closed after air strikes disabled its runways.
'Break the organization'
Israeli Defense Minister Amir Peretz said that Israel intended to "break the organization" and would not allow Hezbollah back to positions it held along Lebanon's southern border.
"If the government of Lebanon fails to deploy its forces, as is expected of a sovereign government, we shall not allow Hezbollah forces to remain any longer on the borders of the state of Israel," Peretz said.
Foreign Minister Tzipi Livni said the military operation was also meant to prevent Hezbollah from influencing the course of the Palestinian-Israeli conflict. "The goal is strategic," she said. "How do we prevent them from inflaming the region any time they want in order to prevent any agreement."
The Lebanese government has called for an immediate cease-fire.
Fears increase
Anti-aircraft fire echoed as Israel jets roared over the capital. It was not immediately clear who was firing at the planes. Both the Lebanese army and Hezbollah have anti-aircraft artillery.
This morning's violence came hours after Israel dropped leaflets in the area warning residents to avoid areas where Hezbollah operates.
Fears mounted among Arab and European governments that violence in Lebanon could spiral out of control.
Israeli analysts warned that Syria, which supports Hezbollah and hosts Hamas' political leader Khaled Mashaal, could be Israel's next target.
Israel says it holds Lebanon responsible for Hezbollah's snatching of the two soldiers, Ehud Goldwasser, 31 and Eldad Regev, 26.
Lebanon's government has no control over Hezbollah but has long resisted international pressure to disarm the group. Any attempt to disarm Hezbollah by force could lead to sectarian conflict.
Copyright 2018 The Lawrence Journal-World. All rights reserved. This material may not be published, broadcast, rewritten or redistributed. We strive to uphold our values for every story published.