It's still a week away, but already downtown business owners are getting ready for the 35th annual sidewalk sale.
"Sidewalk sale is just a lot of fun," said downtown business owner Maria Martin. "For business owners, it's a lot of work. We actually start preparing now, and some people started weeks ago."
From the counter of her store, Southwest and More, 727 Mass., Martin has a clear view of the construction across the street. By later this week, crews will move to the west side of Massachusetts Street, but she's not worried about losing any of her sidewalk space.
"We plan to use the same space on the sidewalk as we have before," Martin said.
Construction crews began replacing waterlines in the 700 and 800 blocks of Massachusetts Street in May and expect to complete the project in late September.
"We are running exactly on schedule," said Dave Osborne, project inspector with the Lawrence Utilities Department.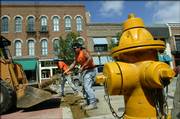 Crews will put up fencing on the west side of the street Monday, but they will pull it back Wednesday night before the sidewalk sale begins and construction takes a brief hiatus.
"We are required to shut down July 20, just because of the sidewalk sale. We don't want to be out here making noise and scaring away the customers," Osborne said.
That news comes as a relief to downtown retailers, who count on income from the sidewalk sale to boost their summer sales.
"It holds us over until the Christmas rush comes along," said Trish Jess, who runs Third Planet Imports, 846 Mass. "We do more business in that one day than we do in half the month of January."
Copyright 2018 The Lawrence Journal-World. All rights reserved. This material may not be published, broadcast, rewritten or redistributed. We strive to uphold our values for every story published.