Ekazhevo, Russia — Shamil Basayev, the ruthless Chechen rebel leader responsible for terror attacks that led to the deaths of more than 800 people, was killed Monday when a dynamite-laden truck in his convoy exploded in this village of red brick houses next to a muddy field.
The blast that killed Russia's most-wanted man, who had a $10 million bounty on his head, appeared to have been an accident, according to regional officials. Basayev died along with three other militants in Ingushetia - a republic plagued by sporadic spillover violence from neighboring Chechnya, where Russian forces have battled separatists for a dozen years.
Basayev, 41, was emblematic of the radicalization of the Chechen rebel movement - which began as a secular fight for independence - and its increasing domination by Islamic extremists. His death, while a huge victory for President Vladimir Putin's fight against terrorism, will probably not end an insurgency that has spread to communities across Russia's predominantly Muslim south.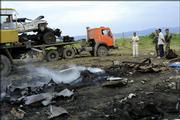 "I am sure that the explosions will stop, but the Caucasus is far from peace," said Susanna Dudiyeva, whose 13-year-old son was one of 331 victims killed in the 2004 Beslan school siege, which Basayev orchestrated.
Russian television showed charred remains of the truck that exploded and two damaged cars next to a wrecked building. A corpse, apparently that of a rebel, lay on the ground with the clothes in shreds. The village is two miles east of Nazran, Ingushetia's biggest city.
Ingush Deputy Prime Minister Bashir Aushev said Basayev's body had been identified "through some of the fragments, including his head," the Interfax news agency reported.
Federal Security Service chief Nikolai Patrushev told Putin in a televised meeting that Basayev and many other rebels lost their lives in a special operation overnight in Ingushetia. He said the rebels were planning a terror attack to "put political pressure on the Russian leadership" during the Group of Eight summit in St. Petersburg this week.
Patrushev said the operation to eliminate Basayev was "thanks to the (Russian) intelligence position abroad," though he did not elaborate. RIA-Novosti quoted an unidentified high-ranking security official in southern Russia as saying that Russian intelligence had been tipped off about Basayev's whereabouts from his close entourage.
"This is deserved retribution for our children in Beslan, for Budyonnovsk, for all the terrorist attacks that they committed in Moscow and in other regions of the Russian Federation including Ingushetia and the Chechen Republic," Putin said, adding that everyone who took part in the operation should get state medals.
However, Ingush authorities said the explosion occurred mistakenly during a special police operation against rebels who were preparing a terror attack for later Monday.
An Ingush regional Interior Ministry official told The Associated Press that Basayev was killed while accompanying a truck filled with 220 pounds of dynamite that blew up in Ekazhevo early Monday. The official, speaking on condition of anonymity because he was not authorized to talk to the press, said Basayev was among four militants killed.
Copyright 2018 The Associated Press. All rights reserved. This material may not be published, broadcast, rewritten or redistributed. We strive to uphold our values for every story published.