No doubt you've heard that Warren Buffett, investor extraordinaire, has decided to give most of his wealth away to charity. His billions will be donated largely to the Bill and Melinda Gates Foundation.
What's also extraordinary is that Buffett won't be leaving his vast wealth to his three children. As I read news reports about his gift, I was struck by Buffett's explanation as to why he's not transferring his riches to his children.
In a Fortune article, Buffett was quoted as saying: "Certainly neither Susie nor I ever thought we should pass huge amounts of money along to our children. Our children are great. But I would argue that when your kids have all the advantages anyway, in terms of how they grow up and the opportunities they have for education, including what they learn at home - I would say it's neither right nor rational to be flooding them with money.
"In effect, they've had a gigantic head start in a society that aspires to be a meritocracy. Dynastic mega-wealth would further tilt the playing field that we ought to be trying instead to level."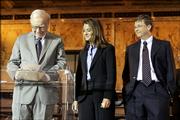 Buffett is as wise about how to parent his children as he has been in amassing his wealth.
I thought about Buffett's comments as I was reading "24-Karat Kids" by Dr. Judy Goldstein and Sebastian Stuart (St. Martin's Press, $22.95), the July pick for the Color of Money Book Club.
This isn't my typical recommendation. Not a single budget sheet in the book. You won't get any help with retirement planning.
Nope, this is a delightful book that deliciously dishes on rich, overindulgent parents. Goldstein is a prominent New York pediatrician. Stuart is an author. Together they have written a fictional account of the life of Dr. Shelley Green, who has just landed a job at Madison Pediatrics on Manhattan's Upper East Side, the epicenter for wretched excess.
"Dr. Judy Goldstein and Sebastian Stuart are writing about a milieu I know well, and their take on it is fresh and very entertaining," says Woody Allen on the book jacket.
How to join
To become a member of the Color of Money Book Club, read the recommended book and then chat online with the author or authors. In addition, every month Michelle Singletary randomly selects readers to receive a copy of the book, donated by the publisher. For a chance to win a copy of "24-Karat Kids" send an e-mail to colorofmoney@washpost.com. Please include your name and address.
And yes, that's the Woody Allen - actor, director and writer.
As one wealthy parent in the book finally admits: "There is something you don't understand about having all the money and all the time and all the crisp, capable staff you've always wanted ... when you can snap your fingers and just buy whatever you want, none of it means anything."
I was riveted by this occasionally risque (this is not appropriate for young readers) cautionary tale of living high.
In her 30 years of practicing as a pediatrician, Goldstein said she has seen some disturbing parenting.
"These children grow up in an environment where instead of having aspirations to achieve professional and personal goals, their only goal is to achieve money and the power it brings to 'have it all,' though they may end up having nothing, i.e., no personal happiness," she said.
Copyright 2018 The Lawrence Journal-World. All rights reserved. This material may not be published, broadcast, rewritten or redistributed. We strive to uphold our values for every story published.