Albany, N.Y. — The highest courts in two states dealt gay rights advocates dual setbacks Thursday, rejecting same-sex couples' bid to win marriage rights in New York and reinstating a constitutional amendment banning gay marriage in Georgia.
Advocates had hoped to widen marriage rights for gays and lesbians beyond Massachusetts with a legal victory in liberal New York, but the Court of Appeals ruled 4-2 that the state's law allowing marriage only between a man and a woman was constitutional.
The decision comes two years after gay and lesbian couples, supported by gay rights groups who saw a chance for a major court win in a populous state, sued for the right to wed.
"Clearly, in bringing the case and pushing it as hard as they did, it's pretty good evidence that they thought they had a substantial chance of victory," said Ohio State University law professor Marc Spindelman, who tracks lesbian and gay legal issues. "It's hard to read the decision as anything other than a rebuff of gay and lesbian couples."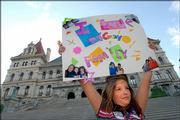 In Georgia, where three-quarters of voters approved a ban on gay marriage when it was on the ballot in 2004, the top court reinstated the ban Thursday, ruling unanimously that it did not violate the state's single-subject rule for ballot measures. Lawyers for the plaintiffs had argued that the ballot language was misleading, asking voters to decide on same-sex marriage and civil unions, separate issues about which many people had different opinions.
The twin rulings, which came less than two hours apart, become part of the nationwide debate that has continued to evolve since a Massachusetts court ruling in late 2003 ushered in a spate of gay marriage controversies from Boston to San Francisco.
Forty-five states, including Kansas, have specifically barred same-sex marriage through statutes or constitutional amendments. Massachusetts is the only state that allows gay marriage, although Vermont and Connecticut allow same-sex civil unions.
Copyright 2018 The Associated Press. All rights reserved. This material may not be published, broadcast, rewritten or redistributed. We strive to uphold our values for every story published.