Riny deBoer said she wanted players to experience the concept of playing soccer in the park with whoever happens to show up.
So, four years ago she created what she calls "Street Soccer."
She regularly gets about 30 players showing up now Monday nights at YSI.
Shelby Politte, who is 14 and one of the older participants, enjoys coming to play.
"It's really good practice for preparation for the season," he said. He plays for a club league called Barcelona.
Mary King, who is 10 and plays for a club team called the Blue Devils, said Street Soccer helped her score more goals for the club season.
"It was hot playing, but it was a lot of fun," she said.
Although the summer heat can be intense, deBoer wants the players to have fun.
"I try to minimize the coaching because the fun of the game has to come out," she said.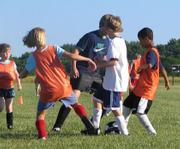 Players are randomly put into various teams and play for 8-minute intervals. Then the teams are mixed up again for the next 8 minutes. From 6 to 7:30 every Monday night, players regardless of age, play game after game.
"It shouldn't matter who they play with as long as they love the game," deBoer said.
Because Street Soccer is for all ages, it is easy to see why someone may think that the younger ones get run over or don't get the ball as much, or the older ones have to be more gentle when they play, but that is not the case. Those who are as young as 4 can play.
"The older ones are able to utilize their skills and help the younger ones, and the younger ones get to see where they can go in the sport and also make friends," deBoer said. "The older players do pass the ball to the younger ones.
"The main goal is to learn creativity within the game," she said. "In the premiere leagues and other team practices, they learn, but I see a lot of individual fakes that they try out here. They get stronger in their skills, and some of that is due to playing against younger kids."
Although Street Soccer is played at YSI, deBoer does her best to set the scene as if they were just playing in a park, for fun.
"It's really up to them to make their own decisions," she said.
Copyright 2018 The Lawrence Journal-World. All rights reserved. This material may not be published, broadcast, rewritten or redistributed. We strive to uphold our values for every story published.