TRENTON, N.J. — Even as they cleaned up the muck left behind by some of the Northeast's worst flooding in decades, some riverside residents wondered Friday how long it would be before they would be at it again.
Life along the swollen Delaware River was frustrating - thousands evacuated, roads and bridges closed, utilities crippled and tens of millions of dollars in flood damage. It was at times bizarre - with a 4-foot alligator left behind in a Trenton apartment and foot-long carp flopping around on the streets of a nearby neighborhood.
But with storms having flooded many of the same homes and businesses in 2004 and 2005, there was a renewed call to finally do something about it.
"Our basement is destroyed - again - exactly what happened last time," Lambertville resident Dan Jacquemin said as he shined a flashlight at muddy water that still filled half his basement.
After touring areas along the Delaware, New Jersey Gov. Jon S. Corzine said he would take another look at a flood task force report, released this year, that calls for redrawing maps to include more land in floodplains, further limiting development in those areas and having government buy out homes in especially flood-prone areas.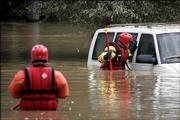 Upriver in Easton, Pa., residents along Bushkill Drive, one of the most vulnerable blocks in the city, were similarly flood-weary.
Cliff Weasner hosed mud from his home's second floor as he motioned to a towering maple tree in his still-submerged backyard. "That tree is probably worth more than my house," he lamented.
Buildings along the Delaware and Susquehanna rivers were among those battered worst by this week's flooding, which forced tens of thousands to evacuate and left at least 20 people dead in Pennsylvania, Maryland, New York and Virginia.
"We should do what we can immediately ... to get people back to some degree of normalcy," said U.S. Sen. Frank Lautenberg, D-N.J., who toured some flooded areas Friday. "But we've got to think about the longer-term picture, how we deal with these things in as quick a fashion as possible."
Corzine on Friday formally asked President Bush to declare a major disaster area in New Jersey. His counterparts in New York, Pennsylvania and Maryland have done the same, seeking federal aid for people hurt by flooding.
Copyright 2018 The Associated Press. All rights reserved. This material may not be published, broadcast, rewritten or redistributed. We strive to uphold our values for every story published.