Dan Rockhill knows his work is different - its approach, its materials, its setting and, perhaps most of all, its appearance.
And he wouldn't have it any other way.
"Our projects are pretty well guided by a very strong conceptual idea," said Rockhill, owner of Rockhill and Associates, an architecture and construction firm in Lecompton. "That's different than you'll find with a lot of other architecture, which tends to be more like real estate - you know, it's business. It's a commodity.
"For us it's something that's a little bit different."
Rockhill's work - which for 18 years has left an innovative, challenging and at times controversial mark on the Lawrence-area landscape - is finding an even broader audience these days, through a book created as part of a sabbatical taken from his post as a Kansas University architecture professor.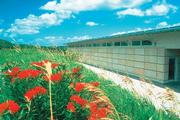 The book, "Designing & Building: Rockhill and Associates," looks at the work of Rockhill and two dozen of the projects that his firm and his students have designed, built or preserved throughout the region.
Included are 10 design-and-build jobs and seven preservation projects handled by his design-build firm, Rockhill and Associates, and seven low-cost residential projects built by students in Rockhill's architecture Studio 804 course at KU.
The projects range from a temporary reception hall and chapel built with cottonwood trunks on a brome grass field adjacent to his farm home in rural Lecompton to the restoration of Constitution Hall in town. Other examples of homes built with concrete, glass and galvanized steel also are explained and celebrated, from their design through construction.
"To think of Dan Rockhill as merely an architect working on the plains in Kansas is to underestimate him, the work and the power of architecture," noted New York architect Tod Williams in the book's postscript. "Work well done is work well done anywhere."
The 128-page book, with 241 photos, is billed as a resource for students, professionals and anyone else interested in design-build projects or passionate about architecture in general.
It is published by Tuns Press, the publishing arm of the faculty of architecture and planning at Dalhousie University in Halifax, Nova Scotia, Canada.
The books are available through www.amazon.com and www.barnesandnoble.com. Rockhill also plans to deliver a lecture and conduct a book signing March 14 at the Lawrence Arts Center, 940 N.H. Copies of the book will be available at The Raven Bookstore, 6 E. Seventh St.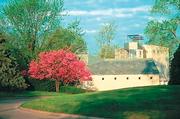 Grant Wanzel, chairman of the press' editorial board and dean of architecture and planning at Dalhousie, explains in the book's foreword that Rockhill - as an invited speaker at the school in 2003 - left members of the faculty impressed with his conviction, dedication and focus on using regional forms, honoring cultural history and learning by making.
"Dan Rockhill's work is deeply engaged and engaging," Wanzel wrote. "It's anything but indifferent. It can be witty, amusing and impish. It's always inventive."
The book offers a chance for Rockhill and others to explain what he's about, and what people can learn from his work.
"It gives a good overview of the nature of what it is that we do here in Kansas," Rockhill said, "which is particularly unusual."
Featured projects
Among the Lawrence projects featured in "Designing & Building: Dan Rockhill and Associates," by Tuns Press: ¢ Shimomura/Davidson-Hues Studio, a combination residence and art studio, 1424 Wagon Wheel Road. ¢ Hobbs Park Memorial, relocation and preservation of an early Lawrence residence, at Hobbs Park, near 10th and Delaware streets. ¢ Modern Speak Easy, an addition to the 1870s-era home of Robert and Molly Krause, 917 Del. ¢ Two low-cost homes designed and built by students in Rockhill's Studio 804 architecture course at Kansas University, at 933 Pa. and 1144 Pa.
Copyright 2018 The Lawrence Journal-World. All rights reserved. This material may not be published, broadcast, rewritten or redistributed. We strive to uphold our values for every story published.