Charleston, W. Va. — Gov. Joe Manchin signed new mine safety rules into law Thursday, saying the new requirements for better communications, underground oxygen supplies and faster emergency responses would help prevent future tragedies like the two that killed 14 miners this month.
"We want to be the benchmark everyone looks to when they mine," Manchin said during the signing ceremony, attended by some of the miners' relatives. "The sacrifice you all have made will change mining in this country."
State lawmakers passed the legislation unanimously just days after a Jan. 19 mine fire killed two men, and about three weeks after an explosion at the Sago Mine resulted in the deaths of 12 miners.
The state's new mine safety law mandates that miners be provided with emergency communicators and tracking devices. It also requires mine operators to store extra air supplies underground, and sets up a new Mine and Industrial Accident Rapid Response System and statewide all-hours hot line to trigger rescue efforts more quickly.
Federal and state investigators were expected to finally get into the Sago Mine late Thursday to start determining what sparked the explosion that led to the 12 deaths, most of them from carbon monoxide poisoning.
The investigation had been held up, first by the dangerous gases and then over a dispute between the United Mine Workers and the mine's owner involving the union's demand to accompany investigators. The company challenged the union's right to enter the non-union mine after the UMW would not disclose the names of the two miners it is representing.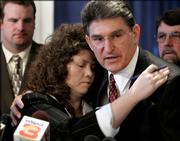 The federal Mine Safety and Health Administration supported granting access to the union, and a federal judge ruled Thursday that union representatives could participate in the exploratory investigation.
The United Mine Workers had consulted with Manchin on the new state law, and while industry officials have raised questions about the reliability of the technology required, they have said they will support it.
State mine officials must now write the rules necessary to carry out the new law. A deadline for coal companies to comply with its provisions has not yet been announced.
Under the new law, extra air supplies would be required inside the mine, and miners would be directed to them by strobe lights, reflective signs and guide ropes.
Copyright 2018 The Associated Press. All rights reserved. This material may not be published, broadcast, rewritten or redistributed. We strive to uphold our values for every story published.