Washington — Georgetown fans surged on the court at the buzzer, celebrating a victory that evoked the Hoyas' powerhouse days of John Thompson and Patrick Ewing - an 87-84 victory over No. 1 and previously unbeaten Duke.
The Blue Devils (17-1) never have been 18-0, and paint-defending, layup-producing Georgetown wasn't about to let it happen Saturday, despite J.J. Redick matching his career high of 41 points for Duke.
With surprisingly easy backdoor moves and open three-pointers, the unranked Hoyas shot 61 percent, built a double-digit lead deep into the second half and nervously survived the frantic final minutes to preserve the upset.
Brandon Bowman scored 23 points, and Jeff Green had 18 for the Hoyas (12-4), who had lost nine straight against ranked opponents and hadn't beaten a No. 1 team since an 85-69 victory over St. John's on Feb. 27, 1985. The victory marks the first defining moment for the school under coach John Thompson III, son of the Hall of Fame coach who guided the Hoyas for more than two decades.
"We've come close, we've been there, we've been at the other end of some lopsided defeats," said Thompson III, in his second season since replacing Craig Esherick. "And for that group to win this game, for that group to experience that, is special."
Tennessee 80, No. 2 Florida 76
Knoxville, Tenn. - Dane Bradshaw scored with 20 seconds left, and Chris Lofton hit two free throws to seal it for Tennessee. Bradshaw's layup gave the Volunteers a 78-76 lead. Florida's Lee Humphrey then missed a three with six seconds left, and Lofton was fouled. He made both foul shots to make it 80-76. Taurean Green missed a long three in the waning moments for Florida.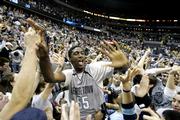 No. 3 Connecticut 71, No. 17 Louisville 58
Louisville, Ky. - Marcus Williams scored 15 points, and Rudy Gay added 12 as Connecticut pulled away late in a victory that could put the Huskies at the top of the rankings.
No. 4 Memphis 85, Southern Mississippi 68
Hattiesburg, Miss. - Darius Washington Jr. scored 11 of his 20 points in the final eight minutes to help Memphis hold on for the victory.
No. 6 Gonzaga 64, San Diego 63
San Diego - Erroll Knight hit a three-pointer from the right corner with eight seconds left, lifting Gonzaga to its sixth straight victory.
No. 7 Illinois 58, Northwestern 47
Evanston, Ill. - Dee Brown broke out of his shooting slump with 18 points and had eight assists, leading Illinois.
No. 8 Villanova 80, No. 20 Syracuse 65
Philadelphia - Allan Ray scored 22, Randy Foye had 20, and Villanova survived Syracuse's second-half surge to beat the Orange.
St. John's 55, No. 9 Pittsburgh 50
New York - Lamont Hamilton matched his career high with 24 points, and St. John's knocked Pittsburgh from the ranks of the unbeaten, the Red Storm's second straight victory over a Top 25 team.
No. 10 Washington 78, Oregon 59
Seattle - Jamaal Williams scored 20, Brandon Roy scored 19, and Bobby Jones added 15 as Washington's three seniors sparked a victory.
No. 11 Michigan State 85, No. 23 Iowa 55
East Lansing, Mich. - Maurice Ager scored 25 points, and Paul Davis had 19 points and 12 rebounds to lead Michigan State.
No. 12 West Virginia 60, No. 18 UCLA 56
Los Angeles - Mike Gansey scored 24 points, and West Virginia survived a furious rally to earn its 12th straight victory.
No. 13 Indiana 62, Purdue 49
Bloomington, Ind. - Marco Killingsworth scored 18, while Robert Vaden and Roderick Wilmont keyed a second-half run.
No. 14 N.C. State 92, Wake Forest 82
Raleigh, N.C. - Cameron Bennerman made all 12 free throws on his way to a career-high 26 points, and Engin Atsur tied a season high with 18 for North Carolina State.
North Dakota State 62, No. 15 Wisconsin 55
Madison, Wis. - Ben Woodside scored 24 points, and North Dakota State upset Wisconsin, snapping the Badgers' 27-game winning streak at home against nonconference opponents.
No. 16 George Washington 83, Charlotte 69
Charlotte, N.C. - Maureece Rice came off the bench to score a career-high 21, and J.R. Pinnock added 13 for George Washington.
No. 19 Ohio State 75, Penn State 64
State College, Pa. - Ron Lewis scored 15, and Je'Kel Foster added 13 and nine rebounds as Ohio State pulled away in the second half.
No. 21 Boston College 65, Miami 61
Coral Gables, Fla. - Craig Smith had 18 points and 14 rebounds, helping Boston College overcome a flurry of three-pointers by Miami in the second half.
No. 22 Maryland 81, Virginia Tech 72
College Park, Md. - Nik Caner-Medley scored a season-high 23 for Maryland.
Copyright 2018 The Associated Press. All rights reserved. This material may not be published, broadcast, rewritten or redistributed. We strive to uphold our values for every story published.