Sydnei Tolefree heard the news minutes before tipoff. The 5-foot-9 junior would be making her first start for Lawrence High's girls basketball team.
"I was pretty nervous," Tolefree said.
Not that anyone but her knew it.
Tolefree funneled a career-high 16 points as the Lions popped Olathe Northwest, 51-28, Friday night in the LHS gym.
"She's a good athlete, and she's been playing well," Lions' coach Kristin Mallory said of Tolefree. "The best thing about it is, we finally won a (center) jump. She's the only kid I have who can jump."
Tolefree scored six of her points during the Lions' decisive second quarter. Lawrence made eight of 11 shots in that fateful period, outscored the Ravens 19-2 and coasted to a 43-20 halftime lead.
"We were on fire," Tolefree said. "We were ready to play."
Added Mallory: "That's as good a quarter as we could have had. The kids were making extra passes and hitting their shots."
Photo Gallery
Girls: LHS v O-NW 1-6-06
Olathe Northwest coach Joel Branstrom, a former Kansas University player, only could scratch his head about his team's second-quarter sinking spell.
"It was like we weren't even out there," Branstrom said. "I didn't even recognize them as my team."
Senior guard Drew Huff led the Lions with 19 points. She had three three-point goals.
"She also had seven assists and a bunch of steals," Mallory said. "Her knee is coming along."
Huff, who had surgery last spring, has to ice her left knee after every game.
The Lions evened their record at 4-4. Olathe Northwest dipped to 2-4.
Lawrence boys 67, Olathe Northwest 56
A barrage of 10 three-point goals - three each by Chance Riley and Nathan Padia - enabled the Lions to boost their record to 6-2 in Friday's nightcap.
Photo Gallery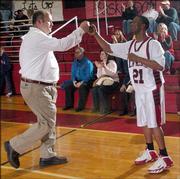 Boys: LHS v O-NW 1-6-06
"Thankfully, we do that pretty well," LHS coach Chris Davis said of his team's long-range skills. "That's what we want to do. The kids know that's our go-to-the-well shot."
Every time the Ravens (2-3) made a run, the Lions seemed to answer with a three-pointer.
Nine Lions scored, led by Riley with 15, Padia with 13 and Tyler Knight with 11. Knight had a pair of treys, while Kristian Pope and Cameron Hershiser each added one.
The Lions shot 48.1 percent (25-of-52) and committed only eight turnovers, but Davis fell short of calling it one of his team's best performances.
"It was ugly, but it was controlled ugly," Davis said.
Both LHS teams will play host Tuesday to Shawnee Mission East.
Copyright 2018 The Lawrence Journal-World. All rights reserved. This material may not be published, broadcast, rewritten or redistributed. We strive to uphold our values for every story published.