Tallmansville, W.Va. — Some of the 12 coal miners who died in the Sago Mine disaster scrawled farewell notes assuring their loved ones that their final hours trapped underground amid toxic gases were not spent in agony.
"Tell all I (will) see them on the other side," read the brief note found with the body of 51-year-old mine foreman Martin Toler Jr. "It wasn't bad. I just went to sleep. I love you. Jr."
Tom Toler, Martin's older brother who worked 30 years in the mine with him, said Thursday that the note was "written very lightly and very loosely" in block letters on the back of an insurance application form his brother had in his pocket.
The miners died after an explosion that rocked the mine Monday morning. Eleven of the victims were discovered nearly 42 hours after the blast, at the deepest point of the mine, behind a curtain-like barrier set up to keep out carbon monoxide, a toxic byproduct of combustion that was found to be present at deadly levels inside the shaft. The 12th victim was believed to have been killed by the blast itself.
Autopsies were under way Thursday, and officials would not comment on the cause of death or how long the men might have survived.
John Groves, whose brother Jerry was one of the victims, told The Associated Press that he knew that at least four notes were left behind. He said his family did not receive one.
The sole survivor, 26-year-old Randal McCloy, remained in critical condition in a coma, struggling with the effects of oxygen deprivation to his vital organs. Doctors said he may have suffered brain damage. On Thursday afternoon, he was moved from a hospital in Morgantown to one in Pittsburgh for hyperbaric oxygen treatment.
The treatment helps get oxygen to the body's tissues, including the brain, and can help increase blood cells to fight infections or promote healing of injuries.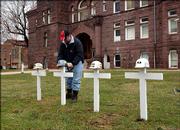 Copyright 2018 The Associated Press. All rights reserved. This material may not be published, broadcast, rewritten or redistributed. We strive to uphold our values for every story published.