Pasadena, Calif. — Vince Young and Texas are second no more to Reggie Bush and Southern California.
With the national championship down to a final play, Young scrambled for an eight-yard touchdown on fourth down with 19 seconds left, and the No. 2 Longhorns stunned the top-ranked Trojans, 41-38, in the Rose Bowl on Wednesday night.
The high-scoring game everyone expected to see broke out in the second half - yet it was a defensive stop that was the key to Texas ending USC's 34-game winning streak.
When USC coach Pete Carroll gambled, the Longhorns stuffed LenDale White on a fourth-and-two at midfield with 2:09 left.
Young, bitterly disappointed at losing the Heisman to Bush, then wound up with the ultimate revenge. On a night when he ran for 200 yards and passed for 267 more, he capped a performance that Texas fans will remember forever by scoring the final TD and running for a two-point conversion
"It's so beautiful," Young said as he received the MVP crystal. "Don't you think that's beautiful? It's coming home all the way to Austin, Texas."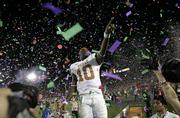 With the two highest-scoring teams in the country, many figured it would come down to which team had the ball last. It basically did, and USC was denied its unprecedented third straight title.
Texas players streamed onto the field with the Longhorns' first outright national title since 1969. Young stood on the sideline in a sea of falling confetti, arms raised toward the crowd, and senior tackle William Winston unfurled a big, white Longhorns flag.
The Longhorns (13-0) won their 20th in a row, overcoming the 38-26 lead USC (12-1) held with 41â2 minutes left.
While the Longhorns' band blared "The Eyes of Texas" in front of a sea of burnt orange, the USC players looked startled. Some put their hands to their heads, others took off their helmets.
"Well, we couldn't stop them when we had to," USC coach Pete Carroll said. "The quarterback ran all over the place.
"This is their night," he said. "It's wonderful doing what we've been doing. We didn't get it done."
Said Leinart: "I still think we're a better football team, they just made the plays in the end."
They sure did.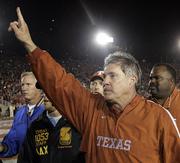 Leinart did his part in his final college game, while Bush was less than his best. Leinart passed for 365 yards, and his 22-yard TD strike to Dwyane Jarrett put USC ahead 38-26 with 6:42 left.
Earlier, Bush soared into the end zone on a 26-yard run, part of his 82 yards rushing. He also had 95 yards on six catches - and a boneheaded lateral that swung momentum Texas' way in the first half.
"It's been a great run. We've done some special things," Bush said. "I don't think we should be ashamed about anything."
In a game that produced over 1,100 yards, amazingly, Texas' final TD came after its defensive stand.
USC decided to try to seal the game with its vaunted offense, dubbed by many the best to ever play college football, and keep the ball out of Young's hands. But it came up inches short from converting on the fourth-and-short, and the Texas defense charged off the field as Young trotted on.
"If you make that first down, you're squatting on the football to win the game," Carroll said. "We just missed it. By what - two inches?"
Young stood in the pocket and passed the Longhorns to a first-and-10 at the 13. After a 5-yard scramble, he misfired on two passes to set up a fourth-and-5 at the 8.
The Trojans brought pressure, as they did all night, but Young broke free, found a lane and raced to the right pylon.
The Longhorns erupted, one pounded the turf as he lay face down on the turf, while the shocked Trojans futilely looked toward officials, hoping they'd say Young stepped out of bounds.
USC had one last chance, and it wasn't a good one. On the last play of the game from just beyond midfield, Leinart's pass sailed high over Jarrett's head around the 25.
Copyright 2017 The Associated Press. All rights reserved. This material may not be published, broadcast, rewritten or redistributed. We strive to uphold our values for every story published.