Anyone who knows the history of Michele Salvini shouldn't be surprised that she's now an owner of a successful Lawrence business.
After all, she became an award winner just seconds into her life.
Back in 1963, Salvini - then known as Michele Lynn Sommer - was the first baby born in Douglas County. Salvini - 6 pounds, 13 1/2 ounces, according to a front-page photo and caption in the Journal-World - and her parents were showered with gifts. It's a tradition that continues today.
Lawrence radio station KLWN again will anoint some well-timed child as its 54th annual Baby of the Year. The winner receives prizes ranging from gift certificates to a car seat. The Journal-World also continues to make a celebrity out of the newborn. A story and photo of the first baby of the year is still a New Year's staple.
"I think it is really neat," said Salvini, who is an owner of the Lawrence printing company FormGraphics Inc.
She said her parents told her at a young age about her winning performance. She said they frequently would get out the old baby blanket that she won, and also listen to a recording of a KLWN interview with her parents.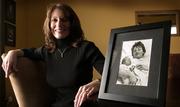 "It's funny to listen to my father because he was in his early 20s back then," Salvini said. "I remember him telling how I was late. I think I was due on Christmas. My father said he was hoping to get the tax deduction."
Hank Booth, station manager at KLWN, said he thought all the hubbub made over the first baby of the year served an important purpose because it helps Lawrence maintain a bit of its small-town feel.
"It is just something we wanted to keep doing as sort of a local hometown thing," Booth said. "So many of our hometown things get diluted as we grow. We didn't want that to happen to this."
Booth's father, Arden Booth, hosted the baby of the year program for several decades. Booth said it was a highlight of his father's year.
"He would call the hospital all the time and ask, 'Do we have any ladies in waiting?'" Booth remembers. "He probably kept interrupting the delivery. The nurses probably wanted to tell him that they'd be done if he would quit calling."
The program also is special to Salvini, but for more reasons than just her own victory. Salvini made a stab at really etching her family's name into the history of the contest. Her daughter Maggie just missed being the first baby of the year in 1988 by a mere two hours.
"We share the same birthday, but it would have been really special if she would have won, too," Salvini said.
Then both mother and daughter could have walked around town as celebrities.
"Yeah, right," Salvini said.
Copyright 2018 The Lawrence Journal-World. All rights reserved. This material may not be published, broadcast, rewritten or redistributed. We strive to uphold our values for every story published.