A glossy new full-color magazine envisioned by college students, written by college students and produced by college students is hitting the streets of Lawrence.
And its creators are more than happy to give their hard work away.
"It's free," said Katy Ibsen, a writer and core member of the team that has been working on the publication since September. "And free is good. We're students. We like free stuff."
The magazine, Chalk, begins distribution today at Kansas University and elsewhere in town. Ibsen and others will hand out copies on campus from 11 a.m. to 2 p.m. today and Wednesday; magazines also will be available from KU Bookstores at the Kansas Union, and at all KU sororities and fraternities, residence halls and many apartment complexes.
Ibsen, a KU senior from Boulder, Colo., is among 24 young adults who worked on the 64-page issue for Sunflower Publishing, a division of The World Company and owner of the Journal-World.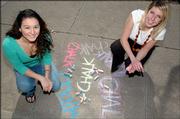 Their collective goal: Give 18- to 25-year-olds - and the advertisers who want to reach them - a product edgy enough to grab their attention, while being hefty enough to stick around for a while.
The inaugural issue includes dozens of features, photos and resources. Editorial content ranges from survival stories for graduates transitioning into the "real world," to a chronicle of a student's weekend without technology (that's right: no credit cards, no laptop computer, no iPod) and a detailed look at how a bird-flu pandemic might cycle through Mount Oread.
All on heavy stock.
"Of all types of media that you can read, students - college students - read more magazines that any other form," said Sara Miller, a KU junior from Bonner Springs, who wrote a story and helped coordinate advertising and marketing efforts. "A magazine's one of those great things that can lay around for a month or two, and you keep picking it up."
Early response to the publication has reached beyond expectations, said Al Bonner, advertising and marketing director for Sunflower Publishing and the Journal-World. The magazine is scheduled to be published at least once each semester.
"The 24 students involved in this effort represent a diverse range of ideas, interests and backgrounds," said Bonner, who also oversees publication of Lawrence Magazine and Lawrence Family Magazine for Sunflower Publishing. "Add in the fact the magazine was created and produced from the ground up by the same group, and you have a product that truly represents the age group it was designed to reach."
Copyright 2018 The Lawrence Journal-World. All rights reserved. This material may not be published, broadcast, rewritten or redistributed. We strive to uphold our values for every story published.