Manila, Philippines — President Gloria Macapagal Arroyo announced she had quashed a coup plot Friday and declared a state of emergency, gambling that the backlash wouldn't leave her government crippled.
It was one of the toughest days yet for Arroyo, who already has withstood two coup attempts and other crises during five tumultuous years in power.
Imposing a state of emergency is a dangerous move in a country still smarting from the martial-law decrees of former dictator Ferdinand Marcos. It came on the eve of the 20th anniversary of the culmination of the "people power" revolt that ousted Marcos.
Riot police - already on heightened alert as reports of a coup plot have circulated for more than a week - used force to disperse two protests before they could gather steam, leading to accusations that Arroyo was suppressing dissent.
Former President Corazon Aquino and about 5,000 people were allowed to march peacefully to a memorial to her late husband, Benigno, whose assassination in 1983 sparked huge protests that led to the revolt against Marcos.
Aquino, a one-time Arroyo ally, criticized the emergency declaration and reiterated a call for the president to "make the supreme sacrifice" and resign.
"I believe that during these times, we should not forget that many sacrificed to regain our democracy," Aquino said.
The stock market fell and the peso ended at its lowest level in nearly a month.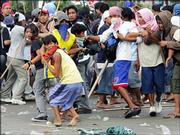 The protesters want Arroyo to resign because of alleged election-rigging in 2004, as well as accusations of corruption and human rights abuses like the purported killing of activists by security forces. Arroyo vigorously denies the accusations.
An army general also was arrested and a police commander was relieved of his duties as military chiefs moved to prevent any rebellion.
Arroyo ordered a security clampdown, with military camps barricaded to keep troops from joining the demonstrations.
Military chiefs said they backed Arroyo and had eased the threat of a coup, but had not wiped it out completely.
U.S. State Department spokesman Adam Ereli said Americans in the Philippines were advised to be careful. "Our view is that the constitution of the Philippines and the rule of law must be respected and violence must be rejected. We hope the situation will return to normal," he said in Washington.
Arroyo said she was in control but clearly was worried about losing her grip on events as her opponents tried to hijack anniversary commemorations.
Many Filipinos see the four-day "people power" revolt that toppled Marcos on Feb. 25, 1986, as their country's proudest moment.
Copyright 2018 The Associated Press. All rights reserved. This material may not be published, broadcast, rewritten or redistributed. We strive to uphold our values for every story published.