Wichita — Nolan Kellerman promises he slept better last night.
The Lawrence High senior again finds himself where he was last year - in a state-championship match with an undefeated record on the line.
Pressure? Sure. But this time, the senior swears he's focused on more than the anxiety.
"I'm just trying to enjoy the moment," Kellerman said. "I remember last year I made myself sick just thinking about the match. I'm just going to try to look at it as icing on the cake. Whatever happens, happens. I'm going to be a happy guy (today) no matter what."
It couldn't have shaped up to be a much better ending for Kellerman, who posted three wins Friday at the Kansas Coliseum to place himself in today's Class 6A 171-pound championship against Garden City's 40-6 Bryan Irsik.
Not only will the senior take a 63-match winning streak over the last two seasons into the finals, he'll also be accompanied in the Parade of Champions by longtime best friend Brendan Halpin.
At 152, Halpin was the only other city wrestler to advance to the first-place bout, notching a pair of pins in his final two matches to put himself in position for the gold.
"In junior high, we'd always dominate and beat everybody," Kellerman said. "It would always be me and him first and second. After this football season, and now me and him going for first and second almost back-to-back, it's pretty awesome."
K.J. Siebert was the only Free State wrestler to survive the second round. The senior overcame a 3-0 deficit to take a 9-5 decision against Blue Valley's Hunter Madl before losing to undefeated freshman Boaz Beard in the semis.
Photo Gallery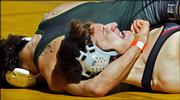 State Wrestling
The toughest blow for the Firebirds came in the 189 class, where Jesse Hardy was upset in the second round by Junction City's Chris Bertucci, 7-3.
"There's four or five kids in that weight class that could wrestle each other 10 times, and each time it would come out different," Free State coach Darrell Andrew said. "We were really pulling for Jess - it just wasn't his day today."
The senior fell behind early, missing on a headlock and allowing a takedown to put himself in an early hole.
"I definitely didn't think Jesse was going to lose in the quarterfinals," Siebert said. "I don't think anybody here did."
C.J. Williams provided the biggest surprise for Lawrence, notching two upset victories to advance to the semifinals at 215.
"It couldn't have gone much better than this," Williams said. "I woke up this morning and I was like, 'I've got nothing to lose, so I'm going to go all out and do anything to get my guy.'"
Though Free State failed to qualify any for the finals, each of the six grapplers did pick up at least one win to earn a spot in today's consolation bracket.
Copyright 2017 The Lawrence Journal-World. All rights reserved. This material may not be published, broadcast, rewritten or redistributed. We strive to uphold our values for every story published.