Turin, Italy — A publicist was hustling Emily Hughes out of NBC's Olympic green room, ready to walk her through a breezeway and onto the Today Show set pitched in the middle of the city's Piazza San Carlos, when she thought to make a final check.
"Do you have your medal with you?"
Hughes blinked. Her seventh-place finish in Thursday night's Olympic figure-skating final was better than anyone had a right to expect, a personal-best score for Hughes on the sport's biggest stage, but it still was seventh place.
"I would if I had one," Hughes assured the TV aide. "Do you have one for me?"
In a way, yes. When the Today Show wants to talk to you, you're either a big story or a big star, and Hughes has qualified at least for the former role with her most unlikely Olympic saga. It may have been seventh place, but two weeks ago Hughes wasn't even on the U.S. team.
Once here, Hughes outdid every other American figure skater - men, women, pairs and dance - in terms of going beyond predictions. Among the women, she really was the only one unable to wipe a wide smile off her face Friday. Silver medalist Sasha Cohen still appeared in shock, glum and dazed, and sixth-place Kimmie Meissner counted herself "a little disappointed."
"This," Hughes said, "is the best of the best."
It was as if she had been wearing rags and scrubbing floors for some wicked stepmother (with a favored sister getting all the attention?) when the call came Feb. 11 from the U.S. Figure Skating Association, asking if she would like to replace injured Michelle Kwan on the Olympic skating roster. A tap on the shoulder with a magic wand.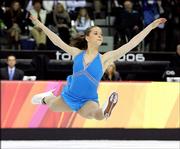 The whole adventure, to prepare for the Olympics in two weeks, was "like cramming for a test," the high school junior said. And the last time she did that, in math, "I did very well," she said. So, why not in skating while millions watched?
Hers was not in the same category as older sister Sarah's 2002 Olympic victory. Circumstances, including Sarah's experience, track record and near-perfect performance, could not compare. But Emily's long program, and particularly her ability to shake off a fall on her triple loop and sail through two more challenging jumps, echoed Sarah's steeliness under duress.
"It was a normal day," Emily said. "I woke up, went to practice, took a nap, actually spent some time with my family, a little shopping."
Then off to her Olympic final.
"I worked hard to get here, and there's not that much pressure. I had no expectations of medaling," she said. "You never know if I'd skated a better program what might have happened. But, even after I fell, I felt that I attacked it. I just wanted to enjoy the rest of it because you never know if it will happen again."
Copyright 2018 The Lawrence Journal-World. All rights reserved. This material may not be published, broadcast, rewritten or redistributed. We strive to uphold our values for every story published.