Chase Hoag led West in the first quarter with three steals. Jack Sanner hit his mark early in the first quarter with a three-pointer for Central.
After West dominated much of the first quarter, a quick basket from Central's Denzell Payne tied the two teams at 11 points apiece at the close of the first.
West dominated again in the second until a Dylan Ballinger bucket for Central tied the two teams at 16.
West began to run away with it in the third after multiple baskets from Hoag, Marcus Spates and Jake Miller.
A strong defense and an unbeatable offense put West 30 points above Central as they finished the game, 77-47, with West taking the third place plaque in the Warhawk Invitational.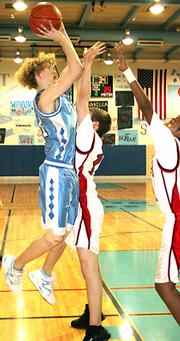 West
Kenton Riley 5pts, 3rbds, 3 / 4 FTM/A
Nate Devin 7pts, 1rbd, 2steals
Jake Miller 11pts, 1rbd
Preston Randolph 4pts, 1rbd, 2 / 3 FTM/A
Chase Hoag 13pts, 3rdbs, 3 / 5 FTM/A, 7steals
Cameron Schmidt 8pts, 1rbd, 3 / 4 FTM/A, 2steals
Marcus Spates 14pts, 1rbd, 4 / 5 FTM/A, 1steal
Dale Shillington 5pts, 1 / 2 FTM/A, 1steal
Isaac Flynn 1steal
Grahm Saunders 8pts, 1rbd, 1steal
Colter Scott 2pts, 2 / 2 FTM\A
Photo Gallery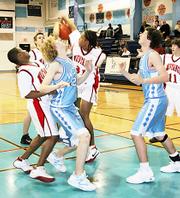 Central v West
Central
#10 4pts
Chris Wildgen 5pts, 1steal
Keagan Taylor 2pts, 1rbd, 2 / 5 FTM/A
Jack Sanner 12pts
Raymond Gleason 0 / 2 FTM/A, 1steal
Joe Riordan 1rbd
Dylan Ballinger 6pts, 0 / 1 FTM/A, 1steal
Sean Brown 4pts, 1steal
Clifton Sims 4pts, 0 / 2 FTM/A, 1steal
Chris Mieto 2pts, 1rbd
Denzell Payne 8pts, 2steals
David Watson 1steal
Copyright 2018 The Lawrence Journal-World. All rights reserved. This material may not be published, broadcast, rewritten or redistributed. We strive to uphold our values for every story published.