Score by Quarter
1st 2nd 3rd 4th Final
13 10 11 15 49 South
8 13 7 13 41 Miege
South
Murphy Ray - 7 points, 3 rebounds, 2 steals
Jayce Eubanks - 14 points, 4 rebounds, 3 steals, 2 blocks, 1 assist
Vienney Phiomavong - 3 points, 1 rebound, 1 steal
Clint Pinnick - 2 points, 2 rebounds, 1 steal
Chebon Dawes - 4 points, 6 rebounds, 1 steal, 4 blocks
Aaron Rea - 11 points, 3 rebounds
Dar Fornelli - 2 points, 2 rebounds, 1 steal, 2 assists
Louis Hamel - 1 rebound
Rashaad Marshall - 2 points
Jake Green - 4 points, 1 rebound
Bishop Miege
Barrett Sykes - 16 points, 1 steal, 1 assist
Morgan Wheeler - 3 points, 3 rebounds
Cameron Taylor - 6 points, 3 steals
Jack Brown - 11 points, 2 steals, 1 assist
#21 - 1 rebound
Ryan Jordan - 5 points, 1 rebound, 1 steal
#20 - 2 rebounds
Photo Gallery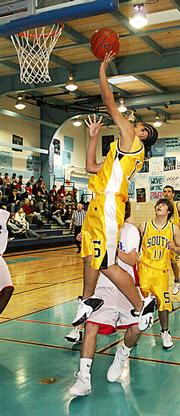 South v Bishop Miege
Key Plays
1st Quarter
Bishop Miege guard Barrett Sykes opened the game with four straight points. South countered with its own run of six points. South forward Jayce Eubanks led the Cougars with six points in the period.
2nd Quarter
Bishop Miege battled back with a couple small runs to bring themselves to within one basket of South at halftime. Clint Pinnick stole the show sinking a shot at the buzzer, which gave South the lead. Pinnick stole the ball off the inbounds play and heaved the ball towards the basket, getting it to go with less than a second left on the clock.
3rd Quarter
South extended its lead in the quarter and stepped up their defense. South's Chebon Dawes had a block late in the quarter and four for the game. Aaron Rea converted three points the old-fashioned way to give South its largest lead of eight points with 23 seconds left.
4th Quarter
That lead evaporated as Bishop Miege fought to tie the game at 40 points with 3:27 left. South responded and would allow Miege to score only one more point the rest of the game. Free-throw shooting down the stretch gave South the 49-41 victory.
Copyright 2018 The Lawrence Journal-World. All rights reserved. This material may not be published, broadcast, rewritten or redistributed. We strive to uphold our values for every story published.