Surprise, Ariz. — Although he is not assured of a spot on the Kansas City Royals' roster, Aaron Guiel has decided to leave spring training in early March to play for Canada in the World Baseball Classic.
Guiel spent most of last season with Omaha, leading the team with 30 home runs, 32 doubles and 95 RBIs. Kansas City promoted him Aug. 25, and he hit .294, with four home runs in 33 games.
This spring, he is battling Chip Ambres, Chad Allen and Kerry Robinson for a reserve outfield spot.
Guiel, who was born in Vancouver and lives in British Columbia in the offseason, is on the Canadian 30-man roster for the World Baseball Classic.
Before making a commitment to play for Canada, Guiel talked with Royals General Manager Allard Baird.
"It was important for me to know where the organization stands because of my role this year," Guiel said Sunday. "He said I had the team's support. In my case, I wanted to know how me not being here would affect my status.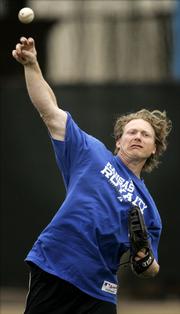 "With all these things being considered, people will say, 'Doesn't Aaron know he is competing for a job?' I'm very aware of it. My only concern is, I understand the organization has to make decisions. I'm familiar with the organization, and the organization is familiar with me."
Manager Buddy Bell gave Guiel his blessing.
"It will have no effect on him," Bell said. "We know what Aaron can do. We have a pretty good idea of what kind of person he is. It is good for Aaron to play for his country."
Baird said the club would have a scout wherever any Royals are playing in the baseball classic.
Guiel and teammate Matt Stairs will leave March 2 to go to Florida to train with the Canadian team. Then they will return to Arizona for games.
Guiel, who could start in center for Canada, figures he will get more at-bats in the baseball classic than he would in the Royals' camp as a spare outfielder.
"As the fourth outfielder, I'd be starting every third game or go into games in the sixth inning for defense," he said. "For Canada, I'll be playing virtually every game and I'll be playing against the best of the best. It is going to be a lot of fun."
Other Royals committed to play in the World Baseball Classic are pitchers Elmer Dessens for Mexico, Barry Armitage for South Africa and first baseman Justin Huber for Australia. There is also a possibility second baseman Ruben Gotay could be added to the Puerto Rico roster.
Copyright 2018 The Associated Press. All rights reserved. This material may not be published, broadcast, rewritten or redistributed. We strive to uphold our values for every story published.