Score by Quarter
1st 2nd 3rd 4th Final
10 11 10 10 41 W
3 3 8 7 21 T
Game Summary
1st Quarter
Guard Anthony Bonner led the Wildcats with six of his game-high 14 points in the first half of the quarter. The Terrapins' Ryan Schroeder got his team on the board early. but the team couldn't keep pace with the Wildcats from the start.
2nd Quarter
Bonner continued to attack the basket and drive the lane with near-reckless abandon, drawing fouls and hitting his free throws. The Wildcats kept the game up-tempo and doubled their going into halftime.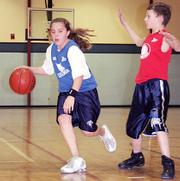 3rd Quarter
The Terrapins seemed to catch their stride as Schroeder and Chase Taylor sank some crucial shots to give the Terps a fighting chance at a comeback. Wildcats Alexa Gaumer and Wilson Hack were key players in keeping their team's lead intact. Both grabbed rebounds and scored when it mattered most.
"We really pressured them a lot and our offense was working good. We need to keep playing as a team to keep winning in the tournament." - Saxon Mingus after defeating the Terrapins 41-21
4th Quarter
The Wildcats sealed the deal in the fourth and final period. Bonner added another four points to his total and the Cats held on to advance to the fourth- and fifth-grade semifinals.
Copyright 2018 The Lawrence Journal-World. All rights reserved. This material may not be published, broadcast, rewritten or redistributed. We strive to uphold our values for every story published.