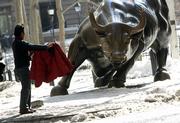 New York — A drop in oil prices below $60 a barrel sent stocks soaring Tuesday, carrying the Dow Jones industrial average 136 points higher and past 11,000 for the first time in a month. A surge in retail sales added to the good mood.
"Oil below $60 a barrel grabbed folks' attention," said Bob Sitko, who manages more than $500 million as a lead portfolio manager with USAA Private Investment Management. "When the market decides to pay attention to things is a bit of Rubik's cube, but this is a big deal."
Other analysts attributed some of the rise to sheer momentum, as Wall Street initially had a muted reaction to oil's decline and the pickup in retail sales.
"It's sort of what other people think other people are doing," said Sandy Lincoln, chief market strategist at Wayne Hummer Investments. "You get this momentum buying and it could move the market pretty high, pretty quickly. (But) it could go the other way tomorrow."
Copyright 2017 The Associated Press. All rights reserved. This material may not be published, broadcast, rewritten or redistributed. We strive to uphold our values for every story published.