Milwaukee — Michael Redd was happy to face former teammate Ray Allen.
Redd scored 19, leading the Milwaukee Bucks to a 106-91 victory Tuesday night over Allen and the Seattle SuperSonics.
"We practiced against each other for several years, so it was great to see him tonight and get to play against him," said Redd, who has taken over Allen's former shooting-guard spot. "He's a great player and great friend."
It was the second time Allen had played in Milwaukee since being traded Feb. 20, 2003, with Ronald Murray to Seattle for Gary Payton and Desmond Mason. In his first trip back to Milwaukee last season, Allen scored 16, shooting only 4-for-16 from the field.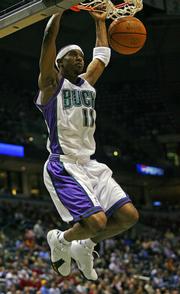 This time Allen scored 19, going 8-for-14 from the field. Rashard Lewis scored 25 to lead Seattle, which suffered its sixth loss in its last seven games.
Joe Smith added 18 points and Bobby Simmons had 15 for the Bucks, who have won six straight home games.
Milwaukee point guard T.J. Ford left the game with 5:52 remaining in the third quarter because of a mid-back bruise. He didn't return and is listed as day-to-day.
Pistons 85, Nets 71
Auburn Hills, Mich. - Chauncey Billups had 19 points and 10 assists, helping Detroit.
Heat 107, Magic 93
Miami - Dwyane Wade scored 38, and the Heat shot 58 percent from the field.
Kings 105, Bulls 101
Chicago - Ron Artest scored 27 and had 14 rebounds to lead Sacramento.
Rockets 128, Clippers 97
Los Angeles - Tracy McGrady had 28 points, and Yao Ming had 17 points and 12 rebounds for Houston.
Copyright 2018 The Associated Press. All rights reserved. This material may not be published, broadcast, rewritten or redistributed. We strive to uphold our values for every story published.