Tonganoxie — Kirk Sours knew there was a lot on the line Friday as he tried to persuade a visiting delegation of Japanese policymakers to once again open their country to American beef.
And he knew he wasn't just speaking for Kansas cattlemen.
"I would venture to say on behalf of every beef producer in the United States," said Sours, manager of the Tailgate Ranch south of Tonganoxie.
He spoke for about 10 minutes, with help from a translator, to an 11-person delegation from Japan's ruling Liberal Democratic Party.
It was about 4 p.m. as the group sat inside a heated bus and listened to Sours. The pastures of the Tailgate Ranch were a few feet away.
When they arrived, the Japanese delegates looked at a few head of cattle in a pasture next to the bus before boarding it again for a short conversation.
They asked Sours what he feeds his cattle. He reassured them that none of his cattle were fed animal-protein byproducts.
The health of American beef has been a hot topic since December 2003 when Japan, then the largest U.S. beef importer, closed its doors to U.S. beef after a case of mad cow disease was discovered. Before the ban, annual beef exports to Japan totaled $1.4 billion.
Japan briefly allowed limited U.S. imports in December but reinstated the ban in January after a shipment of veal meat included backbones, which violated the agreement.
"Basically, what I explained to them was that we can trace these cattle from the day that they are born until the day they become beef," Sours said.
Before arriving Friday at Tailgate Ranch, the Japanese delegates also toured beef-packing plants at Creek Stone Farms in Arkansas City and Tyson Food in Emporia.
Film crews from Japan's four major TV networks accompanied the delegation to the two packing plants.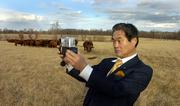 Members of the opposing party - the Democratic Party of Japan - visited the same two plants about two weeks ago on almost a spot inspection. Their visit was not coordinated by the U.S government and the U.S. Meat Export Federation, as Friday's trip was, said Keith Miller, a Kansas Farm Bureau board member from Great Bend.
"This has become a really highly politicized issue in Japan, and we've kind of become pawns in the game here in the last two weeks," said Todd Domer, vice president for communications with the Kansas Livestock Assn. "We just want them to take our safe beef."
The ruling party's delegation came to Kansas to collect information and compare it with what they heard from the opposition party, Miller said.
"I think they were really happy with the entire day," Miller said.
Sours is hopeful he helped convince the Japanese that American beef is safe.
"That's basically what they were here to find out," Sours said.
Copyright 2018 The Lawrence Journal-World. All rights reserved. This material may not be published, broadcast, rewritten or redistributed. We strive to uphold our values for every story published.