Kansas City Mo. — Money manager American Century Investments and Tour de France winner Lance Armstrong have agreed to a three-year partnership during which the company will sell investment products that will help raise money for Armstrong's cancer foundation, the company an-nounced Thursday.
Full-page print ads (at right) featuring Armstrong's stony gaze and the campaign tag line "Put your Lance face on" will begin appearing today. TV ads will follow in May, when Livestrong Portfolios go on sale.
Speaking to hundreds of American Century employees at a church across the street from the company's headquarters in Kansas City, Mo., Armstrong said he agreed to do the campaign because of company founder Jim Stowers Jr.'s own victory over cancer and creation of the Stowers Institute for Medical Research.
"I've never seen a company take their success in the for-profit world and turn it into something a lot more special, with the Stowers Institute, making the country healthier and helping people live longer with a higher quality of life," said Armstrong, who retired from competitive cycling last year after winning a record seventh-straight Tour.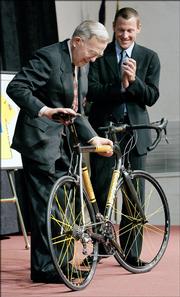 Officials said the privately held company would make annual donations to the Livestrong Foundation based on investments in the special portfolios, which will include "lifestyle funds," which take a more conservation approach as an investor ages and are tied to specific target dates, such as 2015 or 2045. Donations to the foundation won't come from investor dollars, the company said.
Mark Killen, senior vice president of corporate and product marketing, said he first got the idea of teaming up with Armstrong when he read a Fortune magazine article two years ago on cancer survivors that included comments from both Armstrong and Stowers.
"It was just kind of a lightning moment and (I) said, 'This has got to be right,'" Killen said.
Copyright 2018 The Associated Press. All rights reserved. This material may not be published, broadcast, rewritten or redistributed. We strive to uphold our values for every story published.