Copenhagen, Denmark — In the days when Villy Soevndal was traveling the world, the Danish flag on his backpack attracted friendly attention. Today, in much of the world, it would mark him as a target for violence.
Denmark long was regarded as an exemplar of tolerance and charity. Now, enraged protesters in many countries portray it as a locus of evil. Its embassies have been torched, its companies are losing millions in a boycott - and Denmark is reeling with dismay.
In the furor erupting over a newspaper's caricatures of the Prophet Muhammad, Danes are groping for strategies to cool the anger and are reassessing their self-image.
"Like many other young people, I traveled the world with a Danish flag on my rucksack. It opened doors because Denmark was known as a country that respected others, helped other countries," Soevndal, who leads the opposition Socialist People's Party, said Monday.
The effects are more than psychological for much of the business community. The Denmark-based dairy group Arla Foods says a boycott of its goods in some Islamic countries is costing it $1.6 million a day.
Overall, Danish industry could lose $1.6 billion a year if the boycotts in place or threatened in 20 Muslim countries hold firm, said Steen Bocian of Danske Bank.
Arla spokeswoman Astrid Gade Nielsen wondered whether the company can even win back consumers. "That will be a huge task," she said.
Attitudes examined
Denmark also is examining its own attitudes.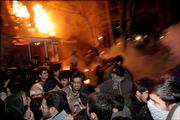 The country is proud of its freedom of speech laws. The last slander conviction was in 1938, when a group of Danes were found guilty of agitating against Jews.
Danes also tend to regard their nation as a paragon of reason and liberalism, pointing to the many immigrants it has accepted in recent decades, its willingness to take part in peacekeeping but not combat, and the presence of Danish aid workers in some of the world's most wretched places.
But Muslims in Denmark - some 200,000 of the country's 5.4 million people - often see a much different image. They complain of discrimination and being denied jobs because of their religion. Many were distressed by statements by Queen Margrethe II in an official biography last year.
There is "something scary about such totalitarianism that is also part of Islam," the queen said. "Resistance must sometimes be shown, although one risks getting a not-so-flattering label."
The remarks were widely interpreted as the queen's expressing outright opposition to Islam, although in Danish the statement implies argument rather than full opposition. Nonetheless, the comments added to tensions for Muslims in a country where the prevailing secularity, liberal sexual mores and affection for beer are deeply at odds with Islam.
Muslims began to feel further oppressed when immigration laws were tightened in 2002, followed by restrictions on bringing in foreign-born spouses. Prime Minister Anders Fogh Rasmussen's government won support for the measure in Parliament with votes from an anti-immigration party.
About 15,000 Muslims - less than 10 percent of the Danish Islamic population - are loyal to a group of outspoken Copenhagen imams who were key in spreading complaints about the Muhammad drawings to Muslims in the Middle East.
Previous criticism
The rising tensions of the last month have made some Danes question the extent to which xenophobia may lurk under the country's cheerful surface.
"I don't want to live in a country that in order to love itself must look down on others," writer Carsten Jensen said at a rally Sunday outside the Copenhagen office of Jyllands-Posten, the newspaper that first published the caricatures.
The newspaper said it decided to solicit and print the drawings from various cartoonists in September as a gesture against what it perceived as a tendency to avoid criticizing Islam for fear of retaliation. A year earlier, Dutch filmmaker Theo Van Gogh was murdered in Amsterdam by a Muslim radical because he made a film critical of Islam.
The drawings touched a raw nerve, in part because Islamic law is interpreted to forbid any depictions of the prophet.
The newspaper has apologized for offending Muslims but not for the publication itself, which it justifies as permissible under freedom of expression laws.
That position makes too fine a distinction for many Muslims.
Here's what's happened so far - and when - in the controversy over publication of the prophet Muhammad caricatures:
Sept. 30, 2005: The Jyllands-Posten daily, one of Denmark's largest newspapers, publishes 12 drawings of the prophet Muhammad in what it calls a test of self-censorship among cartoonists when it comes to Muslim issues.
Oct. 12: Ambassadors from 10 predominantly Muslim nations and the Palestinian representative in Denmark send a letter demanding a meeting with Prime Minister Anders Fogh Rasmussen and urging him "to take all those responsible to task."
Jan. 4: Arab League Secretary-General Amr Moussa protests the publication.
Jan. 25: Religious leaders in Saudi Arabia demand that Jyllands-Posten be punished.
Jan. 26: Saudi Arabia withdraws its ambassador from Denmark to protest the caricatures. In the following days, protests against Denmark spread across the Middle East.
Jan 30: In a statement published on its Web page, Jyllands-Posten said it regretted it had offended Muslims and apologized to them, but stood by its decision to print the cartoons.
Late January-early February: Media in France, Germany, the United States, Britain, Iceland, Italy, Spain, Belgium, Switzerland, Hungary, Greenland, Bulgaria, Portugal and Jordan reprint the cartoons.
Feb. 4: A South African court prohibits newspapers from publishing the cartoons. Protesters in Damascus, Syria, attack the Danish and Norwegian embassies. Jordanian editors Jihad Momani, of the Shihan, and Hisham Khalid, of al-Mehwar, are arrested and charged with insulting religion.
Feb. 5: Protesters in Beirut, Lebanon, storm and set fire to the building housing the Danish Embassy. Iran says it has recalled its ambassador to Denmark.
Feb. 6: Afghan troops shoot and kill four protesters, some as they try to storm a U.S. military base outside Bagram - the first time a protest over the issue has targeted the United States. Protesters in Tehran hurl stones at the Danish and Austrian embassies. Protests also take place in other countries including the Palestinian Territory, Indonesia, Pakistan, Iraq and Somalia.
Copyright 2018 The Associated Press. All rights reserved. This material may not be published, broadcast, rewritten or redistributed. We strive to uphold our values for every story published.