Kansas City, Mo. — The path to the playoffs is clear for Kansas City.
If the Chiefs beat Jacksonville, and Denver loses to San Francisco, and both Cincinnati and Tennessee either lose or tie, the Chiefs are in.
If any of those teams win - all three are playing at home - then Kansas City skips the postseason for the eighth time in nine years, something coach Herm Edwards seemed almost resigned to Tuesday.
"I think about just trying to win a game. You can't worry about the rest of that stuff," he said. "If we make it, that would be great. If we don't, we don't. We have no one to look at but ourselves."
The feel around Arrowhead Stadium on Tuesday seemed unusually gloomy for the start of a week following a win. The Chiefs' 20-9 victory at Oakland on Saturday night kept Kansas City (8-7) at least mathematically alive going into the regular-season finale at home Sunday against the Jaguars.
But the reality is, Kansas City is the longest of long shots. A three-game December losing streak, starting with an overtime loss at Cleveland after the Chiefs led by 14 in the fourth quarter, is almost certain to prove ruinous.
"I've been doing this 14 years. If we don't go this year, it will be the first time I've missed it two years in a row," said Edwards, who coached at the New York Jets the previous five years before coming to Kansas City this season.
"I'm used to going to the playoffs. This will be the first time in my history of coaching I've missed it two years in a row."
Just a month ago, things looked promising. Quarterback Trent Green was back after missing half the season with a severe concussion, the defense was playing better than it had in several years, and running back Larry Johnson was having another terrific season.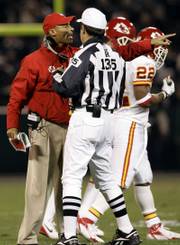 The Chiefs had won five of six, and they had a two-touchdown lead in Cleveland in the fourth quarter.
But now their destiny is at least partly out of their own hands. The Cleveland collapse was followed by losses to division leaders Baltimore and San Diego. The victory on Saturday night over the woeful Raiders broke the losing streak but appeared to do little to lift anyone's spirits.
"I'm very disappointed," Edwards said. "I didn't come in here just to win some games. I came in here to try to win a division, win a championship. We've fallen short right now, unless we get in. Now we've got to figure out how we can do that."
The Jaguars (8-7) will be anxiously scanning the scoreboard to check on the same games that'll be on the Chiefs' minds.
Jacksonville will reach the postseason if its beats Kansas City, and Oakland beats the Jets, and the Bengals and Titans both lose or tie.
"I don't want to make this a habit. It's not a lot of fun, sitting here the last week worrying about five accidents, maybe two teams not showing up for you to get in if you win," said Edwards.
"That's not a lot of fun. You want control of your own destiny. You don't want other people to do your business. We had some chances to do that, and we didn't do it. So we have no one to blame but ourselves."
Edwards said it's OK with him if the stadium scoreboard flashes updated scores from around the league. In the past when the Chiefs needed help from other teams on the final day of the regular-season, general manager Carl Peterson has ordered the control room not to show updated scores of games in progress, preferring to have the players keep their mind on the business at hand.
"However they want to do it," Edwards said. "Carl may stress that he doesn't want it being shown. That's OK. I really don't care. I don't scoreboard watch anyway.
"The worry for us is Jacksonville. We'd better try to beat Jacksonville."
Copyright 2018 The Associated Press. All rights reserved. This material may not be published, broadcast, rewritten or redistributed. We strive to uphold our values for every story published.