Two Douglas County Sheriff's officers received a special tribute Thursday as they each marked their 30th year on the job.
"It's really hard to believe anybody can go 30 years. It's very rare," Sheriff Ken McGovern said as he congratulated Lt. David Brown and Corrections Officer Betty Moore.
Brown and Moore received accolades during a cake-and-punch reception attended by dozens of co-workers and former co-workers, friends and family.
"This used to be cell 8 or 9," Brown said with a smile, noting the location of the reception room in the Douglas County Judicial and Law Enforcement Center. The center, which still houses the sheriff's office, also was the site of the county jail when Brown and Moore were rookie officers.
Brown has handled a variety of duties in the jail and as a patrol officer during his career. He is in charge of training and development at the jail, now located on the eastern edge of Lawrence.
Brown said he's seen a lot of changes in 30 years.
"It's been challenging," he said. "There have been excellent opportunities to do a lot of different things."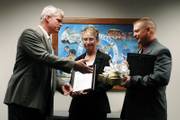 Moore continues to spend her career as a jail officer. She said she likes working with the prisoners and building a rapport with them.
"You learn to let them speak," she said of the inmates. "I know people in the jail as well as I know my own family. Let them talk and listen to them and you'll find out what their problem is."
McGovern presented Brown and Moore with framed letters of congratulations signed by Gov. Kathleen Sebelius.
McGovern, who joined the sheriff's office in 1982, said he was trained by both Brown and Moore.
"They brought me in here and raised me," McGovern said. "They showed me the ropes and all the things they had already learned."
Copyright 2018 The Lawrence Journal-World. All rights reserved. This material may not be published, broadcast, rewritten or redistributed. We strive to uphold our values for every story published.