Baghdad, Iraq — Defense Secretary Robert Gates traded ideas with Iraqi leaders Thursday about boosting military assistance for the embattled government and warned Iraq's neighbors that the U.S. will be a presence in the Persian Gulf for a long time.
But on the second day of a visit to the war zone, the new Pentagon chief would not answer the key question on the minds of many, including U.S. troops: Will he recommend a short-term increase in the number of American forces in Iraq?
Speaking after meetings with Prime Minister Nouri al-Maliki and other Iraqi officials, Gates said the talks were "mainly on the overall approach, including the possibility of some additional assistance." He said no numbers of additional troops were discussed.
"We were really talking in broad terms," said Gates, who is in his first week as defense secretary.
Gates' visit comes as President Bush reassesses U.S. policy in the war, which is solidly opposed by the American public after 3 1/2 years of bloodshed. Among the president's options is whether to quickly add thousands of U.S. troops to the 140,000 already in Iraq, in hopes of slowing the escalating violence in Baghdad and elsewhere.
In the meetings, Gates said he discussed how "with Iraqis in the lead, we can best play a supporting role" in helping bring order to the country. He said he assured the Iraqis of "the steadfastness of American support and our enduring presence in the Persian Gulf."
Earlier in the day, he said Iran and Syria are playing a negative role in the violence. A special U.S. commission, the Iraq Study Group, recently suggested a diplomatic push that would involve all of Iraq's neighbors - including Iran and Syria. Bush, however, has seemed disinclined to involve those two American nemeses.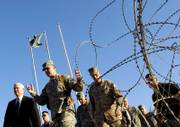 "We need to make damned sure that the neighbors understand that we're going to be here for a long time - here being the Persian Gulf," said Gates during a morning meeting with soldiers.
After Gates met with U.S. soldiers at Camp Victory, several said the extra forces would help.
"Sir, I think we need to just keep doing what we're doing," Spc. Jason T. Glenn, with the 101st Military Intelligence Brigade Combat Team of the 1st Infantry Division, told Gates during a breakfast session with about 15 soldiers.
"I really think we need more troops here," Glenn said. "With more presence on the ground, more troops might hold them off long enough to where we can get the Iraqi Army trained up."
Military commanders worry that rushing thousands more Americans to the battlefront could prompt Iraqis to slow their effort to take control of their country.
Those concerns are "clearly a consideration" in mapping out future strategy, Gates said.
When Gates asked whether adding forces would help, he got a roomful of nods and smattering of "yes, sir" responses.
The soldiers told him they think the Iraqi Army is getting better, but that it should be bigger and that many of the Iraqis are still not showing up for duty.
Copyright 2018 The Associated Press. All rights reserved. This material may not be published, broadcast, rewritten or redistributed. We strive to uphold our values for every story published.