Wichita — Karon Bradley walked away from a Marquette team that took him to the Final Four as a freshman. Kyle Wilson left Illinois two seasons before the Illini reached the national title game.
Phillip Thomasson thought about quitting basketball after two frustrating seasons at Colorado State. And Ryan Martin spent two years at the junior college level, determined to show up the Division I recruiters who snubbed him out of high school.
All four wound up at Wichita State. Without any of them, the Shockers might not be 9-0 - tied for the best start in school history - and ranked No. 8.
"When we started this program, we felt like we had to get transfers to be successful," said coach Mark Turgeon, whose team meets New Mexico today in the Las Vegas Holiday Classic. "We've obviously been fortunate with the ones we've brought in."
Wilson, a senior forward, is Wichita State's leading scorer at 13 points per game. Martin, another senior forward, averages 10.3 points and a team-high 6.8 rebounds.
Bradley, a senior guard who started 13 games last year, has moved into a reserve role - where he averages 20.8 minutes and 9.7 points and gives the Shockers a shot of speed and defense.
"I already knew what I was capable of doing, coming here," said Bradley, who was recruited by Turgeon in high school. "I knew what Coach wanted me to do, which is come in with my energy off the bench."
And Thomasson, who struggled as a small forward at Colorado State, has found his niche inside. The junior averages 8.3 points and 5.6 rebounds and leads the Missouri Valley Conference in field-goal accuracy at 70 percent.
"Here, I fit in the system, and they've called upon me to score some points and get some big minutes," said Thomasson, who has one start this year. "I feel like that's what I should have been doing the first two years of school.
"I'm glad that happened, though, because I'm here," he said. "It all worked out."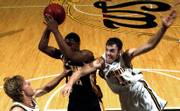 That's a common theme, whatever the players' reasons for transferring - or going somewhere else first.
Wilson wanted the prestige of playing in the Big Ten, but his freshman season was overshadowed by personal issues he won't discuss beyond saying, "Some other stuff happened."
"I was beat up. I was mentally worn down, physically worn down," he said. "I just needed a whole new environment, I think, just a whole new start. You don't get many chances to start over in life, and I was just lucky that it worked out so well."
Wilson's uncle is Turgeon's next-door neighbor, which helped Turgeon keep up on Wilson's decision.
"I got Kyle five minutes after he got out of class the day he got his release," Turgeon said. "We were the first ones to talk to him, and I think by the end of the conversation he was ready to commit."
Thomasson, who committed to Colorado State as a high school sophomore to avoid a long recruiting process, started the Rams' first eight games in 2004-05. Then he lost his spot and much of his playing time - largely, he believes, because the assistant coach who recruited him was no longer there.
"I had no confidence," Thomasson said. "I was nothing, and I didn't want that to be my legacy as a basketball player, to be beaten by that. I came out here, and it seems to be working out perfect so far."
The blows to Martin's confidence came earlier, when
Missouri-Kansas City was the only Division I program to recruit him out of high school.
Instead of taking a small college offer and wondering what might have been, he spent two seasons working on his game at Coffeyville Community College in southeast Kansas.
"That was a really hard time in my life, because I really didn't understand why I wasn't getting recruited," he said. "But now when I look at it, I know it made me a stronger person and it made me a better basketball player, because it made me work that much harder to prove them wrong for not recruiting me in the first place."
Bradley's issue was temper, not confidence.
"The first couple of practices we had him, I thought, 'This kid will never play for me,"' Turgeon said. "He's kicking trash cans, knocking chairs over, wanting to fight everybody. I think one day he wanted to fight me."
Bradley, who blamed his early anger on a competitive nature and frustration at adjusting to a new system, came around after Turgeon turned on the tough love.
"He knows I'm my own worst critic, and he definitely had to calm me down," Bradley said. "Some days, he pretty much had to just send me to the corner."
Turgeon now counts Bradley among his most rewarding success stories.
"He's matured so much," Turgeon said. "He was a little over a 2.0 when he got here. He's going to have a double-major degree in May. That's why you coach. You love basketball, but you get into it because you love being around kids."
Copyright 2018 The Associated Press. All rights reserved. This material may not be published, broadcast, rewritten or redistributed. We strive to uphold our values for every story published.