Apatzingan, Mexico — Thousands of troops rolled into a key Mexican drug stronghold Tuesday to set fire to marijuana and opium fields and round up traffickers, sent by President Felipe Calderon to restore order in a region where smugglers have defied authorities with beheadings and large-scale drug production.
Navy ships were patrolling the Lazaro Cardenas port, a hub for drugs arriving from Central America and Colombia on their way to the United States.
Cornelio Casio, one of several generals overseeing the operation in the western state of Michoacan - Calderon's home state - said 6,500 soldiers and federal police were deployed.
"We aren't going to lose any time," he said. "We are completely focused on this war."
The campaign echoes crackdowns by previous Mexican presidents who repeatedly ordered mass firings of drug-corrupted police, revamped courts, sent thousands of troops to battle traffickers and accelerated drug seizures - without making much of a dent in the quantity of narcotics crossing the U.S.-Mexico border.
In an interview Tuesday with the Televisa network, Attorney General Eduardo Medina Mora said the operation was aimed at "reconquering territory" controlled by drug gangs.
"It's not just a war against drug lords," he said. "It's a war against the entire criminal structure."
Calderon brushed aside concerns the crackdown could lead to violations of human rights and claim innocent victims.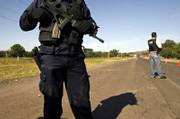 "It's about recovering the calm, day-to-day life of Mexicans who live in the state," he said Tuesday.
Calderon took office Dec. 1, promising to fight the execution-style killings, corrupt police and defiant gangs that plagued Vicente Fox's presidency. Calderon has budgeted more funds for law enforcement and appointed a hard-line interior secretary, Francisco Ramirez Acuna.
U.S. Ambassador Tony Garza repeatedly has expressed concern about the rising violence, some of which has spilled into the United States, and the State Department has warned U.S. citizens about travel to Mexico.
Warring cartels have killed at least 2,000 people this year and forced Fox to send troops into the border city of Nuevo Laredo and the beach resort of Acapulco.
But those efforts failed to deter traffickers, who have left human heads outside government offices accompanied by written warnings. One recent message in Michoacan read: "See. Hear. Shut up. If you want to stay alive."
Copyright 2018 The Associated Press. All rights reserved. This material may not be published, broadcast, rewritten or redistributed. We strive to uphold our values for every story published.