STILWELL — No one would confuse Lawrence High's game with a beauty contest Thursday night.
In a foul-plagued slug fest, LHS defeated Center High, 59-46, in the first round of the Blue Valley Shootout at Blue Valley High.
"It was an ugly win," LHS senior Nathan Padia said. "Physical teams are cause for a physical game."
The teams combined for 43 fouls. Although both scrapped defensively, the Lions' size helped them triumph. While LHS (2-0) does not have one player under six feet tall on its roster, Center's nine-man team listed only four players taller than 6-foot-0. That difference showed on the glass as the Lions outrebounded the Yellow Jackets by double digits and held them to just three offensive rebounds.
"Team rebounding was a great thing," LHS coach Chris Davis said. "I hope we keep doing that."
Davis said he hoped LHS could win the Blue Valley Shootout as it did last year. Thursday's victory set up a match at 6:45 tonight against Lee's Summit (Mo.) North.
From the get go, the Lions looked deserving of advancing. LHS took the lead early in the first quarter, ending that period with a 16-9 lead, which it never surrendered.
"We just came out harder than they did," said senior Daniel Green, who scored eight points. "At the very beginning of the first quarter we got the ball inside and played good defense and just caused havoc."
In addition to playing his customary lockdown defense, Padia led the Lions with 14 points, scoring most of them around the basket.
"I was just moving," Padia said. "They were playing up close, and I'd just get back door and get the pass."
Although the Lions moved well without the ball, they have some areas to address. They committed 18 turnovers, often as a result of ballhandlers not looking down the court or players not coming toward the basketball.
Photo Gallery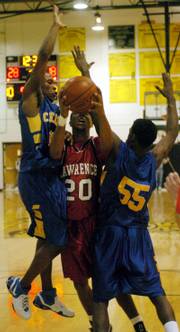 LHS vs. Center High
"We played pretty well," Padia said. "A lot of it is we're in our second game. We need more practice going against stuff."
Center posed an interesting early season test as its fast guards and wings applied in-your-face defense.
"We haven't been pressed like that," Green said. "They're a quick group of kids. We just need to be more mentally stable and make the right passes and be patient."
More than turnovers, though, the statistic that stood out was the number of fouls - 18 by LHS and 25 by Center. Senior Chance Riley scored 10 points, but committed two of his three fouls early in the game.
"That hurt us," Davis said. "He picked up two ticky-tack fouls. Then all of the sudden he's sitting."
The game's most controversial foul occurred with 4:39 in the third quarter. Green and Center's Rudolph Muhammad wrestled for the ball, and Muhammad, who received a technical, appeared to kick him before mouthing off.
"They both went down pretty hard and were fighting for the ball," Davis said.
After the technical someone threw a cup on to the court. Officials delayed the game so a cleanup crew could mop up the mess.
LHS played sound defense, but two Center players shined. Ray Berry scored 19, and Marlon Parris scored 13, the pair combining for all but 14 of the team's points. The Lions, however, likely will face a more difficult opponent in Lee's Summit North.
"I was extremely impressed with the way they played," Davis said. "They're a very structured, very patient team."
Copyright 2018 The Lawrence Journal-World. All rights reserved. This material may not be published, broadcast, rewritten or redistributed. We strive to uphold our values for every story published.