South Bend, Ind. — Notre Dame showed it knows how to finish.
The Irish opened a 10-point lead, then turned the ball over three straight times to let No. 4 Alabama close to 85-82. But Russell Carter hit a three-pointer and added an 18-footer to ignite a 14-0 run as the Irish beat the Crimson Tide 99-85 on Thursday night.
"They were going in all night, so I just kept shooting and they just kept passing me the ball," said Carter, who finished with a career-high 27 points.
The Irish, who last season lost five times on shots in the final two seconds, talked during a timeout late in the game how they weren't going to let another game slip away this season.
"We were in this position 10, 11, 15 times last year, but this isn't last year," Carter said. "This is a new season. We're not going to lose composure. We've all been through this, it's about time to get a win from it."
Irish coach Mike Brey said he was surprised his players thought about last season toward the end of the game.
"I thought I had the therapist clean that all out," he said. "By the way, I'm the therapist."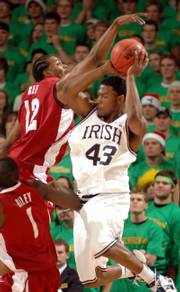 The Irish (7-1) did show signs of letting the game slip away, turning the ball over on three straight possessions. But Carter hit his two shots and Luke Harangody converted on a three-point play and it was the Crimson Tide players who lost their composure, turning the ball over on three straight possessions.
"We had a chance to get it to one and it just seems like we lost it two or three times and bang, bang, bang, they hit shots, then we turned the ball over," Alabama coach Mark Gottfried said. "We competed really, really hard, we just didn't finish it."
Kyle McAlarney also had a career-high 20 points and Colin Falls also scored 20. The Irish were 12 of-28 from 3-point range. No team had shot better than 29 percent against Alabama (7-1) from the 3-point range in its first seven games.
Alonzo Gee led Alabama with 24 points, Ronald Steele had 13 and Jermareo Davidson 12.
"They just played hard and outhustled us," Gee said.
The 99 points were the most scored by Notre Dame against a ranked opponent since a 101-98 victory over No. 10 Syracuse on Feb. 15, 1992.
Copyright 2018 The Associated Press. All rights reserved. This material may not be published, broadcast, rewritten or redistributed. We strive to uphold our values for every story published.