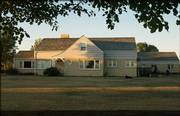 The site of the infamous Clutter family murders near Garden City is up for sale.
The Clutter House in Holcomb is where Herbert Clutter, his wife and two children were found killed on Nov. 15, 1959. The crime received international publicity as the subject of Truman Capote's book "In Cold Blood" and movies.
Richard Hickock and Perry Smith broke into the home after hearing that the Clutters kept a safe full of cash, which was untrue. They shot Clutter; his wife, Bonnie; their daughter, Nancy, 16; and their son, Kenyon, 15.
Hickock and Smith got away with less than $50. They were caught and hanged in 1965.
More about the Clutter family and 'In Cold Blood'
The house is currently owned by Donna and Leonard Mader, who bought it in 1990 from Bob Byrd, the first to own the home after the Clutters' deaths. Herb Clutter built the two-story farmhouse in 1948.
The Maders have said people from all over the world have shown up at the house after reading Capote's book, prompting them at one point to charge a small fee for a tour.
The house will be sold through private auction by Faulkner Real Estate in Ulysses.
Copyright 2018 The Associated Press. All rights reserved. This material may not be published, broadcast, rewritten or redistributed. We strive to uphold our values for every story published.