Saitama, Japan — The bracket says the United States will be facing Germany in the quarterfinals of the FIBA world championships Wednesday.
In truth, the U.S. is facing Dirk.
"Man, they have Dirk," U.S. point guard Chris Paul said. "He's one of the best players in the NBA and one of the best players in international ball as well."
Everyone here is on a first-name basis with Dirk Nowitzki, the Dallas Mavericks' star forward who has joined the ranks of the one-name basketball stars.
There's Kobe, Shaq, LeBron and Yao. And Dirk.
"He's an amazing player," U.S. guard Kirk Hinrich said. "He poses unbelievable matchup problems for any team, either in the NBA or here. He is used to playing internationally and with his German teammates. He poses a real challenge."
Nowitzki is coming off his best NBA postseason. He performed spectacularly in the Western Conference playoffs, leading the Mavericks to the NBA Finals for the first time in the franchise's 26 years. A subpar - for him - performance in a six-game Finals loss to Miami didn't diminish the perception that Nowitzki had arrived.
In Dallas, Nowitzki is the best player on a talented team. In Japan, he is the best player on a team without another NBA player.
Nowitzki leads the tourney's remaining players in scoring, at 24.5 points per game, and rebounding, at 10.3 per game. His 46 field goals are nearly double the total for his next-highest teammate, Demond Greene, who has 24. Nowitzki also leads his team in assists, steals and turnovers.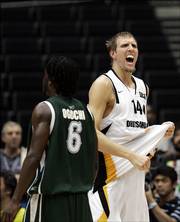 Nowitzki scored 47 points - and made all 17 of his free throws - to carry the Germans past Angola in triple-overtime in group play. When Spain limited Nowitzki to 14 points, the Germans were blown out, 92-71.
Germany probably needs something in the 47-point range if it hopes to stun the red-hot Americans, who are 6-0 and have won their last two games by a combined 216-131.
"Obviously the U.S. is the favorite to win it all here, but you never know," Nowitzki said. "Every game has to be played."
Bronze medalists at the FIBA World Championship four years ago in Indianapolis, Germany came to Japan hoping to take another step. If the Germans had beaten Spain, they would have avoided the U.S. until the final.
The game may have a strange feel for Nowitzki, who is friends with many of the Americans. After Germany escaped with a 78-77 victory over Nigeria on Sunday, Nowitzki embraced U.S. trainer Casey Smith, who is also the Mavs' head trainer.
"For him, facing these guys night in and night out, he's going to be fired up because he's representing Germany against them," said German guard Johannes Herber, who played at West Virginia. "But we're not a one-man team, and he won't be facing them alone."
Nowitzki isn't the only German with a personal connection to the U.S. team. Forward Ademola Okulaja teamed with U.S. forward Antawn Jamison at North Carolina from 1995-98, reaching two Final Fours.
Copyright 2018 The Associated Press. All rights reserved. This material may not be published, broadcast, rewritten or redistributed. We strive to uphold our values for every story published.