Baghdad, Iraq — Hundreds of Iraqi tribal chiefs gave important support Saturday to Prime Minister Nouri al-Maliki's national reconciliation plan, while the government leader called the release of a leading Sunni Arab lawmaker by kidnappers a gift to his unity campaign.
But after a relative lull in violence Friday, 26 people were reported killed in nearly a dozen attacks around Iraq that showed there will be no quick end to the sectarian and political strife tearing at the country.
Al-Maliki won endorsement of his program for bridging religious, ethnic and political divisions at a national conference of tribal chiefs. A representative of the chiefs read their agreement on live television, calling it a "pact of honor."
"Realizing the gravity of the situation our country is undergoing, we pledge in front of God and the Iraqi people to be sincere and serious in preserving the unity of our country," said the agreement signed by tribal leaders and sheiks.
The chiefs also pledged to "work hard to stop the bloodletting and ... sectarian killings that have nothing to do with our values."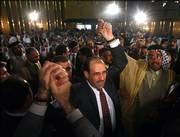 The endorsement was a boost to al-Maliki because tribal ties wield considerable influence in Iraqi society, especially among rural people for whom clan bonds are vital.
But like all other institutions in Iraq, tribal affiliations also are sometimes tenuous, so al-Maliki still faces a tough road in pursuing the reconciliation program unveiled in June.
His Shiite-dominated unity government is struggling to control sectarian violence that has become widespread in recent months and the Sunni Arab insurgency that has raged since Saddam Hussein's ouster. About 10,000 people have been slain since the government took office in May.
Among other things, the plan offers amnesty to members of the Sunni-led insurgency not involved in terrorist activities, calls for disarming primarily Shiite sectarian militias and promises compensation for families of Iraqis killed by U.S. and government forces.
But no major Sunni Arab insurgent groups has publicly agreed to join the plan, and many of the Shiite militias are controlled by legislators themselves.
Al-Maliki hopes the tribal chiefs can help draw Iraqis away from violence. "These tribes have to play a significant role in fighting terrorists, saboteurs and infiltrators," he said in a speech opening the chiefs' conference.
Copyright 2018 The Associated Press. All rights reserved. This material may not be published, broadcast, rewritten or redistributed. We strive to uphold our values for every story published.