Craig Friedrichsen wasn't about to shy away when asked what the strongest part of his team was during practice Monday.
"It's going to frighten teams how hard we hit the ball," the Seabury Academy girls volleyball coach said.
The reasons? Senior outside hitter Molly Thurman and sophomore outside hitter Melissa Burch.
"I definitely feel most confident about my hitting," Thurman said. "Passing's always been difficult for me, so I'm working on that."
Friedrichsen made it clear to Thurman and Burch from the first day of practice Aug. 14: They most likely were going to play every minute of every match. Burch is in top volleyball shape after attending a volleyball camp at Graceland University in Iowa. Thurman said she came into the season expecting to play entire matches.
"I thrive off adrenaline, being in the game, and I just want to be there for my team and do all that I can for them," Thurman said. "I'm hoping to go full rotation, back row and front row."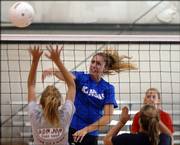 Thurman, Burch and senior Lane Frizell will be Seabury's team captains this season.
"You look at these kids, and there are three or four kids here who either Lawrence High or Free State would love to have," Friedrichsen said. "Maybe you can find six kids, but it's hard getting that eighth, ninth and 10th kid who's really good."
Boys soccer
Seabury boys soccer practices started Aug. 14. The team will be faced with a difficult task this season: It has only 11 players.
"We're going to play ironman soccer this season," coach Gunar Harmon said.
Typically, a high school varsity roster contains 16-18 players. As a result of the low turnout, Harmon has stressed fitness, with the idea of playing smart and conserving energy during the team's practices.
It will translate to a conservative approach during the regular season.
Harmon said two early standouts had been senior Simon Thompson and freshman Chris Parker.
Cross country
Coach Eric Nelson returns for his third season at Seabury. The team started practices Aug. 14.
The girls team, which has four runners, qualified for the state meet last season and finished ninth.
This season, Nelson said the girls team would focus on rebuilding. A key runner could be junior Brooke Sutherland.
"Brooke is very committed. She's a tournament-level tennis player, so she knows how to work from that sport," Nelson said. "I'm trying to transfer some of that determination over to cross country."
The boys team, which has nine runners, was fourth at the regional meet last season, failing to qualify for state.
Nelson said the two most impressive athletes on the boys team thus far were junior Bill Butler and sophomore Gus Wigen-Toccalino.
Copyright 2018 The Lawrence Journal-World. All rights reserved. This material may not be published, broadcast, rewritten or redistributed. We strive to uphold our values for every story published.