Before becoming involved with the 24/7 grind of Kansas University basketball, Bonnie Henrickson played golf regularly.
"I used to until I took this job," said Henrickson, the KU women's basketball coach. "But I enjoy the game a lot."
She received a rare opportunity to savor one of her favorite hobbies Saturday as Alvamar Golf Course hosted the second annual Bonnie Henrickson Golf Tournament.
Proceeds of the charity tournament supported KU women's basketball and the Lawrence Memorial Hospital breast cancer center. Rather than raise $20,000 exclusively for the basketball team as they did last year, Henrickson wanted to lend her help to a charity that could aid the entire community.
"We want to support a cause that is important to everyone here," she said.
Breast cancer prevention also carries a personal meaning for Henrickson. Her aunt, Bernice Holy, died of breast cancer three years ago after fighting the disease for 10 years.
Instead of setting aside a percentage of the profits for Lawrence Memorial, the golf committee ensured the hospital would receive at least $2,000. At a fee of $100 per person, 164 golfers on 41 teams played in the tournament. After 2005's event did not fill up until a week before the tournament, this year's sold out in three weeks.
"We just had people beating down the doors," said Sarah Merriman, chair of the golf committee and president of the Hardwood Club. "People just wanted to play in this tournament."
Each participant also recieved a chance to play with Henrickson. Stationed at the par-3 seventh hole, Henrickson posed for pictures, mingled and signed autographs for each foursome before teeing off with them.
Asked for her golf handicap, she replied: "driving, putting and chipping."
Fortunately Henrickson's day job revolves around shooting, passing and dribbling. She deemed it a "quiet period" until Sept. 16. She and her staff can make phone calls, but NCAA rules prohibit them from traveling to visit recruits.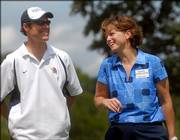 "We're not allowed off campus," she said. "But everyday is a recruiting period."
Her current squad started classes last week and will its their workouts on Monday. The players will receive two hours of individual skills work and six hours of strength and conditioning each week.
Henrickson has coached the Jayhawks for two seasons. Last season, they finished 17-13, KU's most wins since 1999, and reached the NIT, but she has not set a goal for the 2007 season.
"We're not ready for that," Henrickson said. "We're still trying to figure out who we are."
Merriman, however, has determined that the annual golf tournament will become a fixture for years to come. They plan to brainstorm a plan to match the increased demand for both the Henrickson tournament and KU women's basketball.
"It's evidence of what a job Bonnie and her staff are doing to build a program," Merriman said. "The kids are great, and support is growing."
Copyright 2018 The Lawrence Journal-World. All rights reserved. This material may not be published, broadcast, rewritten or redistributed. We strive to uphold our values for every story published.