Sapporo, Japan — Puerto Rico was scoring so easily against the United States, maybe the Americans should have considered playing 6-against-5. Actually, they tried that.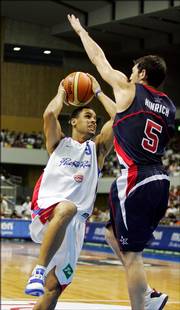 The U.S. eventually overcame a slow start that included a strange sequence in which Carmelo Anthony inbounded the ball despite being out of the game, settling down to beat Puerto Rico, 111-100, on Saturday in the opening game of Group D in the world championships.
Anthony led the U.S. with 21 points. LeBron James and Kirk Hinrich each added 15 for the Americans.
"We didn't get off to the start we wanted to," Hinrich said. "We played in stretches. A lot of that is a credit to Puerto Rico and the way they played and the effort they gave. Moving forward, I think we're just going to have to play a lot more consistent and play better for longer periods of time."
Anthony was the central figure in the game's most bizarre sequence, which led to a technical foul on the Americans. After picking up two quick fouls, he went to the bench, but chose to stand in front of his chair instead of sitting.
When a ball went out of bounds near the U.S. bench, both the nearest referee and Hinrich didn't seem to realize Anthony wasn't in the game. So the official handed the ball to Anthony, the closest player to him, and with no other U.S. players coming back for it, Anthony simply passed it in, giving new meaning to the term "sixth man."
The ref eventually figured it out when Anthony didn't run up the court with the rest of the players, and a technical foul was called.
The U.S. moves on to play China.
Copyright 2018 The Associated Press. All rights reserved. This material may not be published, broadcast, rewritten or redistributed. We strive to uphold our values for every story published.